Kayvon Thibodeaux Got Away With Lots of Kicking During Bills - Giants Fight on 'Sunday Night Football'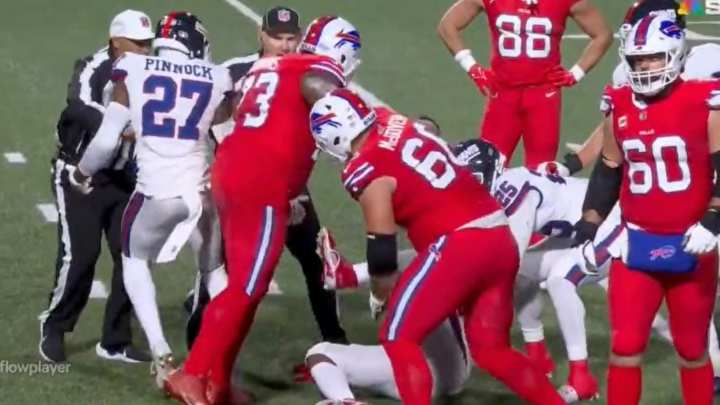 The New York Giants and Buffalo Bills fought on Sunday Night Football in Week 6. The Bills were driving in the third quarter when things got out of hand as multiple players were given unceccessary roughness penalties, but they were all offset so it really didn't matter.
It was third-and-1 when Latavius Murray ran into the line and picked up a first down. That's when things got wild. Kayvon Thibodeaux was on the ground kicking up at Bills players. Other lineman started shoving. Josh Allen got involved and could have immediately regretted his decision if Bobby Okereke hadn't been in the mood to break things up.
Leonard Williams and Thibodeaux were both given unecessary roughness penalties for the Giants while Dion Dawkins was given the flag on the Bills. Since the penalties all offset, no one was really punished, which means there should be fines coming for what was definitely a confrontation that went a little too far for the NFL's liking.
Especially, Thibodeaux, who was kicking Dawkins and maybe some other players while trying to protect himself from getting jumped on.