Kay Adams Has Faith in Case Keenum and the Browns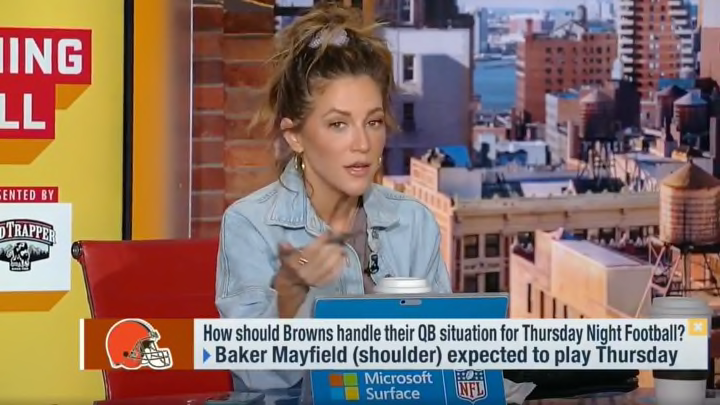 Kay Adams /
News officially broke on Wednesday morning that Baker Mayfield will miss a crucial tilt with the Denver Broncos on Thursday while dealing with a torn labrum in his left shoulder. Mayfield was in obvious pain during the team's loss to the Arizona Cardinals on Sunday and, with a short week, it doesn't come as a big surprise that he'll be on the sideline.
Now it is Case Keenum time. Cleveland is 3-3 and in dire need of a victory to keep up in a very competitive AFC North. Keenum will do his best to deliver that win, although it's not just Mayfield who will be missing; Odell Beckham Jr. is dealing with his own shoulder issue that may keep him out, and the Browns have lost both Nick Chubb and Kareem Hunt for the foreseeable future to go along with their various maladies on the offensive line and across the defense.
It will be an exceptionally tall task for the backup quarterback to accomplish, even if the Broncos are coming off a big loss to the Raiders and are not the most intimidating of opponents. Kay Adams, though, has faith. She explained why on today's edition of Good Morning Football, before we received word that Keenum would officially start.
Keenum's career has been largely unremarkable but he had one glorious season in 2017 and it came under the tutelage of Kevin Stefanski. This is why the Browns have him on the roster. He knows the offense and knows exactly what is asked of him within the system.
Unfortunately, Keenum will not be throwing to the elite duo of Stefon Diggs and Adam Thielen this time around. If OBJ can't go, his top targets will be Donovan Peoples-Jones and Rashard Higgins. That's assuming he'll even have time to get the pass off, since the Browns' two starting tackles are both hurt and Von Miller promised to "murder" whoever lines up opposite him on Thursday. Without Chubb or Hunt, the Browns will be handing it off to D'Ernest Johnson, who has three carries for 11 yards this season. Cleveland is not at all set up to succeed here.
Then again, Keenum threw the greatest game-ending touchdown in NFL playoff history. Who bets against a guy like that?