Kansas State 'Pledgesketball' Brawl Features Some Great Sports Jerseys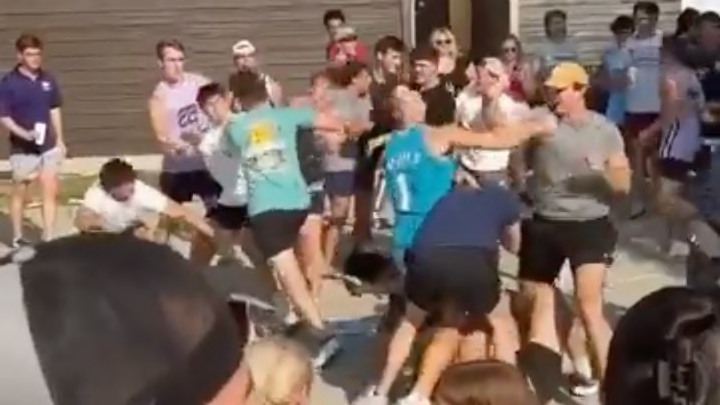 Kansas State residence halls opened on August 16th so the kids have had plenty of time to make new friends. Some have even decided to join fraternities which leads us to something call "pledgesketball." According to Heartland College Sports, it's an annual event held by the Phi Delta Theta fraternity where pledges play three-on-three and this year it broke out into a massive brawl.
There is a lot going on in this very short video. Most of the attention is going to the kid in the LaMelo Ball jersey who gets knocked out in the middle of the frame right as the person shooting the video zooms in, but it's a rich tapestry. From the kid who gets taken down and slammed on the ground to whoever found the ball and took a fullcourt shot in the middle of the chaos.
When you've got a video like this its always fun to spot all the jerseys. There's a white LaMelo Ball jersey, a Shaq Lakers jersey, a White Chocolate Kings jersey, a Kobe Bryant high school jersey, a Jimmy Butler Heat jersey and a Travis Kelce shirtsy. Not to mention a few K-State jerseys and a Salvador Perez jersey!
Then there's the rest of the crowd. Mostly just standing there saying "oh my god" and "holy shit" over and over as their classmates have an all-out brawl over a game of pickup basketball.