Justin Jefferson Looked Deeply Depressed After Putting Up Huge Statline in Loss to Bucs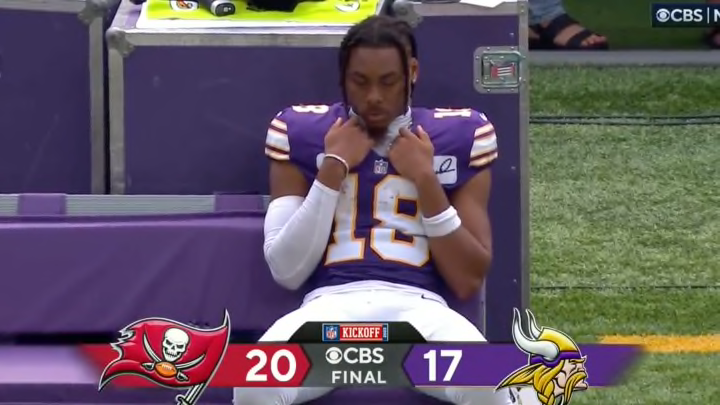 Justin Jefferson /
Justin Jefferson is the best wide receiver alive and there is no debate on that front. He caught 128 passes for 1,809 yards last season and picked up right where he left off in 2023. In the Minnesota Vikings' season opener against the Tampa Bay Buccaneers today, Jefferson notched nine catches for 150 yards and was as unstoppable as expected.
However, the Vikings managed only 17 points and lost despite his efforts. Kirk Cousins had three turnovers, including one terrible red zone interception. The Bucs, captained now by Baker Mayfield, gave Minnesota several chances to win but the Vikings could not get it done. As the CBS cameras panned the sideline after the final whistle Jefferson looked deeply unhappy.
Can't blame the guy. He did everything a receiver can do and lost. It is a familiar tale for Jefferson and his frustration may only grow as the season goes along if the Vikings follow their usual path. Which is to play well but still lose more often than not.
Since Jefferson did not sign the big-money extension everybody expected him to sign with the Vikings, stuff like this will be micro-analyzed until you're sick and tired of it. Prepare yourselves. The more unhappy Jefferson looks the more discussions you'll see about whether or not he'll ask out and where he would fit best if he did. I wouldn't be surprised if it was a B-block talking point tomorrow.
Don't say we didn't warn you!