Ohio State Coach Ryan Day Weighs in on Justin Fields' Epilepsy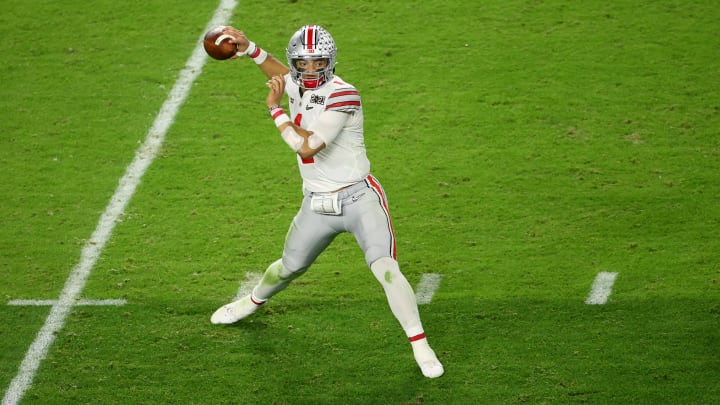 CFP National Championship Presented by AT&T - Ohio State v Alabama / Jamie Schwaberow/Getty Images
On Wednesday it was revealed that Justin Fields told NFL teams he's managing epilepsy as he heads into the 2021 NFL Draft. It was a big announcement little more than a week before the draft and could certainly change where he winds up. Ohio State head coach Ryan Day weighed in on the news shortly after the news broke.
Fields was diagnosed with the condition in his youth and the symptoms have reportedly gotten shorter and less frequent over time. He doesn't have seizures as long as he takes his medication and members of his family have outgrown the condition in their 20s. Doctors believe Fields will too.
The most important aspect of this as far as NFL teams should be concerned is that it has never impacted his on-field ability. He's never missed a game as a result of the disorder.
Fields is projected to be a top-10 pick in next week's draft after a stellar career at Ohio State. Fields went 20-2 as a starter for the Buckeyes and accounted for 78 touchdowns in 22 starts. He also had an incredible showing at his Pro Day, breaking out a 4.44 40-yard dash and was excellent in the throwing session.
We'll see if this news impacts his stock.