Josh McDaniels Gives Terrible Explanation For Late Field Goal In Loss
This made it worse.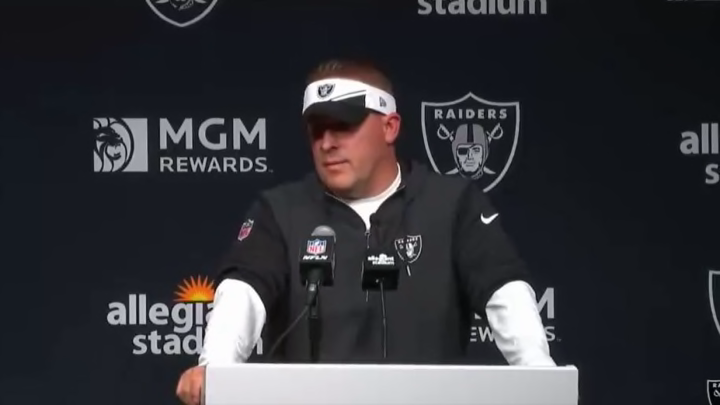 Josh McDaniels and his Las Vegas Raiders lost to the Pittsburgh Steelers 23-18 on Sunday Night Football. While the loss was bad enough, McDaniels made things worse for himself due to a puzzling late decision on a key fourth down. He didn't make things better while explaining it during the postgame presser.
Trailing 23-15 with 2:22 left in the game, the Raiders faced fourth-and-4 from Pittsburgh's eight-yard line. The obvious call was to go for it in an attempt to tie the game, but for some reason, McDaniel sent the field goal unit out. Daniel Carlson made a 26-yard field goal to make the score 23-18.
The Raiders then kicked off deep, allowing the Steelers to run the clock down to 23 seconds remaining. Pittsburgh punted, pinning Las Vegas at the 15-yard line. Jimmy Garoppolo threw an interception on the next play and the Raiders lost.
The decision to kick the field goal robbed the Raiders of a chance tie the game. McDaniels' reasoning made it worse.
Check it out:
Just a clueless explanation. Kicking the field goal meant the Raiders would still need a touchdown, they just had less time to do it and far more yardage to cover. And what did he mean by "you're gonna need another possession anyway"? Not if you tie it with a touchdown and a two-point conversion. Just absolutely stupid.
That's the kind of decision that gets NFL coaches fired.