Bills Comeback Comes Up Short Despite Horrible Roughing the Passer Penalty on Jags' Josh Allen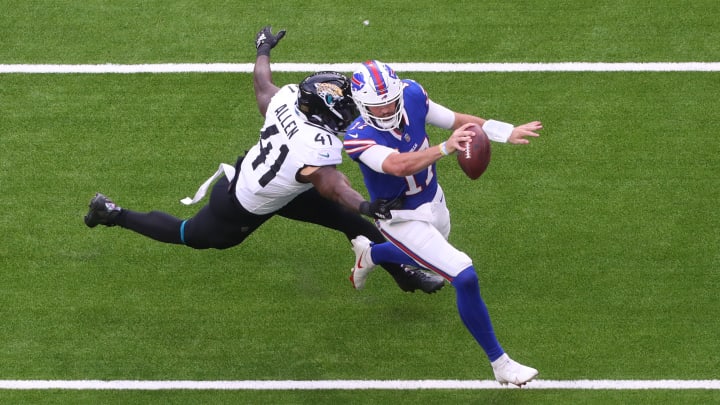 Jacksonville Jaguars v Buffalo Bills / Henry Browne/GettyImages
The Buffalo Bills - Jacksonville Jaguars Week 5 game in London was mostly a usual English American football slog until the teams woke up in the fourth quarter and traded touchdowns on four straight possessions. The Bills got some serious help on one of those drives when Jacksonville's Josh Allen was called for roughing the passer when he sacked Buffalo's Josh Allen.
This looks an awful lot like a standard tackle and it's not clear what else the Jags' Allen was supposed to do in this situation. It was third-and-one and the penalty gave the Bills a big first down and they scored a few plays later.
As you can see by Doug Pederson's reaction, it was not a well-received call. Allen tried to sell it immediately by pointing to his helmet, but its unclear if the officials needed the help making the call. This is just another one of those calls that gets made every week even though no one really thinks its a penalty. The referees just have no choice but to call it apparently. Allen is probably lucky they didn't look at it in super slow motion and throw him out for a helmet-to-helmet hit.