Jose Fernandez Accidentally Beaned David Peralta, D'Backs Returned Fire Anyway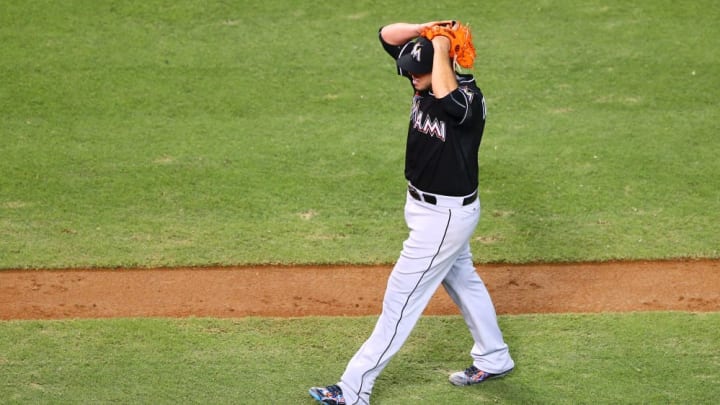 Baseball is often too dumb for its own good. That's why we're posting this clip from Wednesday night's game between the 40-55 Marlins and 43-50 Diamondbacks in Phoenix.
Here's what happened. In the bottom of the sixth, Jose Fernandez hit David Peralta in the head with a fastball. Peralta stayed on the ground for a long time, but apparently passed all the concussion tests afterward and could play today. Initially it didn't look good, to say the least.
Bear in mind it was on an 0-2 pitch. If you watch the video you can see Fernandez looks very upset, putting his hands on his head — not exactly the reaction of someone throwing a beanball or message pitch.
It didn't much matter, since cooler heads rarely prevail in baseball. D'backs hitting coach Turner Ward said something and home plate umpire Vic Carapazza ejected him. You can see Carapazza mouthing, "don't tell me how to do my job."
In the next inning Arizona reliever Dominic Leone hit Christian Yelich square in the back and was immediately ejected.
Dumb all around. The postgame reactions make Arizona look the dumber.
Here's Fernandez and Yelich in the Miami Herald:
""I got really scared," Fernandez said. "It's sad because I know the kid personally.""
And Yelich:
""We didn't hit their guy on purpose," Yelich said. "Everybody knows that. I think they had a problem with [Fernandez] going to make sure he was OK, which I don't really understand, because that's a classy way to handle it. I mean, he's buddies with the guy, so he's not trying to hit him. He's trying"
(Sigh)
Meanwhile this is D'backs manager Chip Hale in the Arizona Republic:
""Nobody should be pitching the ball up by somebody's head," Hale said. "That's not the place to go. You can't do that. People always (say), 'Well, he didn't mean to do it, of course.' He probably didn't mean to do it, but nobody knows that.""
(Groan)
Based on all the evidence I'd say with 99.9 percent certainty Fernandez didn't intentionally try to bean Peralta. Sometimes, believe it or not, a player throwing a small baseball at a tiny target might miss his spot. Part of the risk in baseball involves players getting hit unintentionally. This isn't a good thing, but without robot pitchers with 100 percent accuracy how can mistakes be avoided?
What's the old saying? An eye for an eye leaves the whole world blind? I guess that isn't one of the game's unwritten rules.