Jorge Masvidal Doesn't Deserve an Immediate Rematch With Kamaru Usman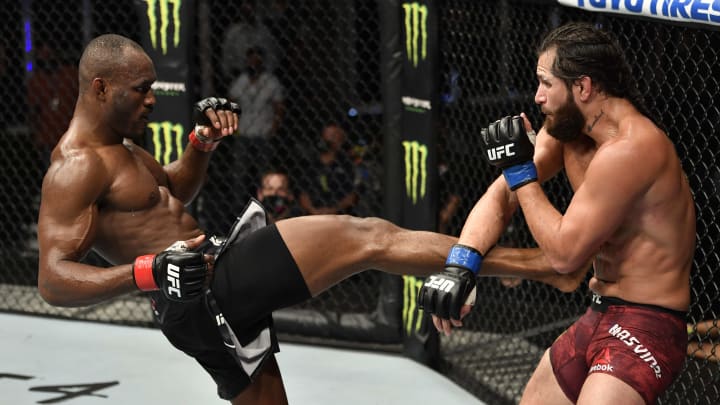 Kamaru Usman kicks Jorge Masvidal at UFC 251: Usman v Masvidal / Handout/Getty Images
Jorge Masvidal says he wants an immediate rematch with UFC welterweight champion Kamaru Usman. Masvidal got dominated by Usman at UFC 251, losing a unanimous decision and looking completely outmatched. While Masvidal took the fight on six days notice and had a brutal weight-cut, he should have to win at least one fight before he gets another shot at Usman.
Masvidal told ESPN's Ariel Helwani, "I want that damn belt and I'm stubborn. And I know I'm better than Usman, and I want to prove it. I want to fight again."
He continued, "I'm not going to take nothing from him; he won the first one. Let's do it again."
While it wasn't an exciting fight, Usman put on a clinic for how to slow down and neutralize a dangerous striker. He grappled with Masvidal and pinned him up against the cage for most of the bout, while working in strikes and leaning on the challenger to wear him down. He took Masvidal to the mat, did work on the ground and completely controlled the action. There's a reason Usman is 12-0 in in the UFC and is one of the best pound-for-pound fighters in MMA right now.
Masvidal does deserve a future shot at the title with a full camp. He did Dana White and the UFC a solid by stepping in on short notice and giving the company a legit headliner for its first card on Fight Island. That said, he'll need to establish some championship credibility first.
White has floated the idea of a bout between Masvidal and Conor McGregor, which would be huge. Both men are devastating strikers and action fighters who could put on one hell of a show. They both also have huge followings. White thinks that could be the biggest fight in UFC history and he might be right.
McGregor is clearly a better fit at lightweight, but the chance to make a big-money bout against Masvidal happen could interest him. He has unfinished business with lightweight champ Khabib Nurmagomedov, but those plans might be on hold for a while after the death of Nurmagomedov's father.
Masvidal wants a shot at the welterweight belt and would likely need to be guaranteed a ton of money to fight McGregor. If White made that bout and guaranteed the winner a shot at the welterweight title it might be enough inducement to get a deal done.
Right now, Masvidal doesn't have a legit claim on the welterweight title. Gilbert Burns was originally supposed to face Usman in the main event of UFC 251, but he contracted coronavirus, which led to Masvidal replacing him. Now Burns or Leon Edwards are likely next in line for Usman. Both men have a legit claim, with Burns having the stronger case.
As for Masvidal, a bout with McGregor, a rematch with Nate Diaz, or a shot against Burns, Edwards or Colby Covington are all possibilities. He should get back in the octagon quickly though. He didn't perform well against Usman and he should want to make fans forget about that as soon as possible.