Jorge Alfaro Says 'Let's F-ing Go San Diego' on Broadcast Again After Walk-Off Win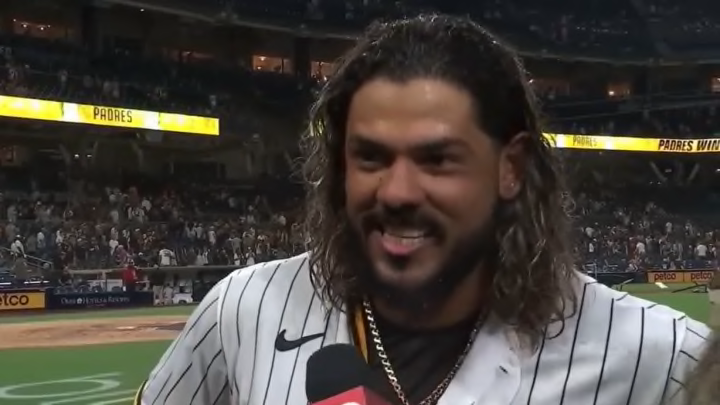 Jorge Alfaro did it again. The San Diego Padres catcher came through with a walk-off hit Thursday night, an occurrence that seems like it has become common for him. After the game, Alfaro repeated something he said the last time he came through with a game-winning hit, and it felt like the crowd -- and his teammates -- were waiting for it.
Two weeks ago, Alfaro came through with a walk-off single to give the Padres a 3-2 win over the Arizona Diamondbacks in 11 innings. He finished his on-field postgame interview with this:
On Thursday night, he drove in the winning run in the bottom of the 10th with a bases loaded hit. That gave the Padres a victory over the San Francisco Giants. After the game, Alfaro's teammates waited in the dugout, and egged him on to say it again. He obliged:
Here's the reaction from his teammates when he finally said it:
Awesome.
Teammate Mike Clevinger is clearly a big fan.
Alfaro's new catchphrase has already spawned a few t-shits (here and here). I doubt this is the last time we'll hear that this season.
Have to wonder of MLB will have a problem with this being the phrase he goes with.