Jordan Spieth and Michael Greller Trying to Figure Out FedExCup Playoff Standings Was Great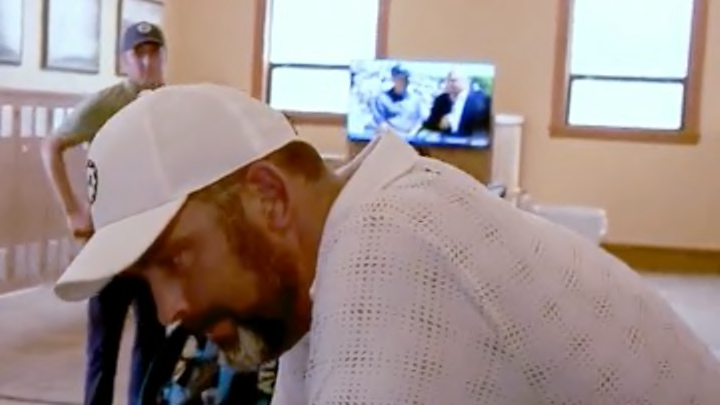 Jordan Spieth has been doing this thing lately where he plays exceptionally well for the first 20-some holes of a golf tournament and makes you believe that this one is finally the one he's going to win because it's simply been too long. Then sometime around noon on Saturday the crushing realization that he will not, in fact, be lifting the trophy begins to set in. At the BMW Championship he followed the familiar script and it became a battle to survive and advance with the rest of the top 30 players in the FedExCup standings and gain entry into the Tour Championship at East Lake. And after shooting a one-over on Sunday, his fate was in other golfers' hands and it could have gone either way.
The PGA Tour put out some exclusive footage of Spieth, his caddie Michael Greller, and one other gentleman trying to figure out what the hell was going on and it went down exactly how you'd expect.
There's something profoundly funny about a someone getting information from their caddy while not on the golf course. There was a whole bit about it on Seinfeld when Stan was advising Kramer until his advice proved to be disaterous. Spieth and Greller are famous for their in-round banter, and together the create one of the most compelling shows in all of golf, even when the golf is rather pedestrian.
Shortly after this, the duo and everyone else could stop counting with their fingers and toes and see that Spieth finished 28th and will play the final event — even if he has to start 10 strokes back of Scottie Scheffler and several strokes behind Viktor Hovland and others who are in better form.
It will be a tall mountain to climb but at least we're guaranteed a few more conversations before closing the season.