Jon Rahm Makes Par Despite Intentionally Hitting Ball Backwards at U.S. Open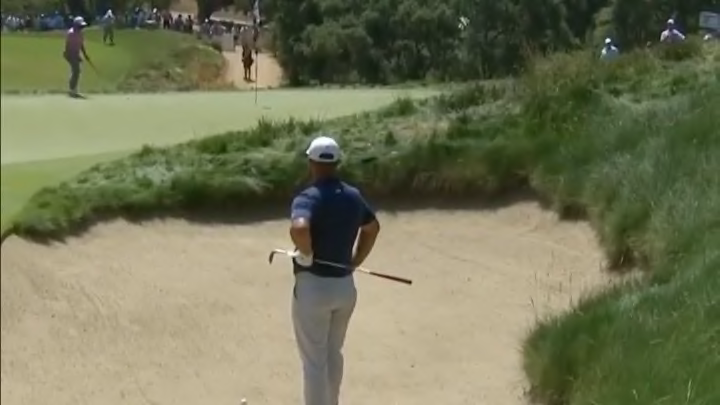 Jon Rahm /
The 2023 U.S. Open at the Los Angeles Country Club has been a tournament of extremes halfway through Saturday's affairs. On the one hand, the undulation of the fairways and greens has made for some utterly insane bounces that have led to doubles and triples for many a golfer. On the other hand, Ricky Folwer and Xander Schauffele both set a new record with opening round 62s. So it's been kind of a weird one, but the golf has been very entertaining.
Jon Rahm made his own contribution on that front during his third round. He went too aggressive in his approach on the short sixth hole and ended up in the greenside bunker on his drive. He then was faced with two choices. Either go over the edge of the trap right at the pin and hope he was capable of putting just the right amount of spin on the ball to play the slope and keep it on the green, an extremely tall task on this green from that angle. Or just hit the ball in the opposite direction of the flag, play the hill, and figure it out.
Rahm chose the latter option. He kept the ball on the fringe after getting out of the trap, chipped it to 11 feet, and made the putt.
That's why he's one of the best in the world, folks. And the clip as a whole is a good microcosm of how things have gone at this year's U.S. Open. What a save.
Rahm still has a lot of ground to make up, sitting at even after eight holes and Rickie Fowler leading the field at -10. Maybe this is the moment where the momentum swings.