JoJo Siwa Caught on Hot Mic Yelling 'F--- Me' After Groundout to Pitcher During Celebrity Softball Game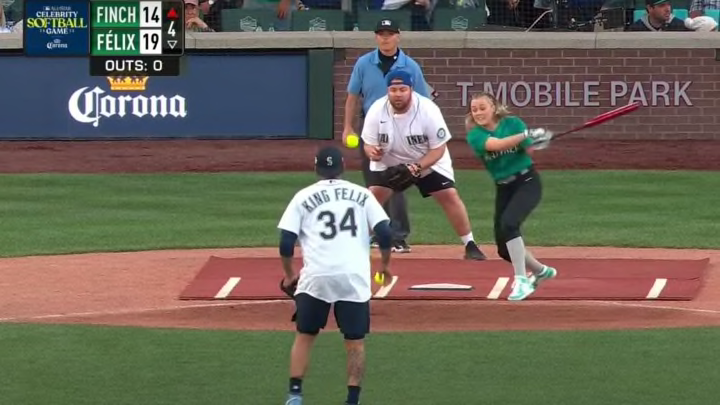 JoJo Siwa /
MLB All-Star festivities got underway in Seattle this weekend as teams across the league finished their final few games before the break. The annual Celebrity Softball Game took place on Saturday, with Celebrity Softball legend (and regular softball legend) Jenny Finch acting as captain for one side with longtime Mariners ace Félix Hernández on the other. Internet celebrity JoJo Siwa was on Finch's team and got picked up on a hot mic after a grounder to the mound.
In the fourth inning, Finch's squad was making a rally in the top of the frame. They were down eight runs entering the inning and managed to get three runs on the board before Siwa came up to bat. She didn't get good contact and poked it to Hernández, after which she yelled "f--- me" loud enough for the broadcast to hear it. From the 1:04:03 mark below:
This is particularly amusing coming from Siwa because she started off as a child star on a Dance Moms spin-off when she was 10 years-old. She's kept her level of celebrity by releasing music and becoming a viral internet personality. A decade later she's dropping f-bombs on live television at the MLB Celebrity All-Star Game. What a journey for her.
Siwa would ultimately record the final out one inning later in her team's 21-19 loss.