Joey Votto Very Polite to the Umpires After Getting Ejected For Arguing Horrible Strike in Final Game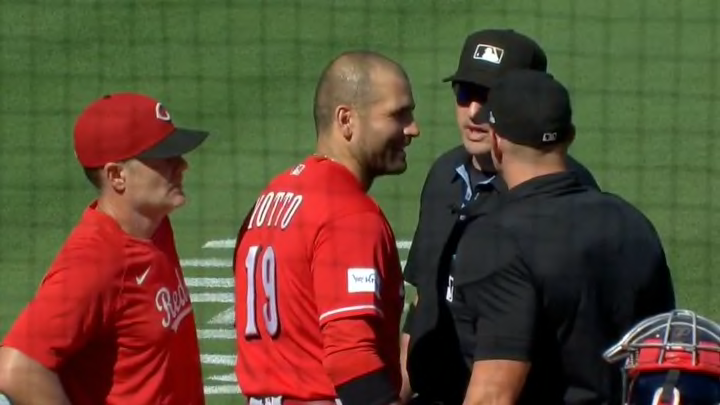 Joey Votto may have played the final game of his MLB career on Sunday afternoon as the Cincinnati Reds took on the St. Louis Cardinals. While Votto, 40, had a very long career, his final game was incredibly short. Batting second in the first inning, Votto struck out swinging. After he made his out he let home plate umpire Shane Livensparger know that he did not like the pitch he took inside for the second strike of his at-bat.
Perhaps realizing what just happened, Votto then appeared to share a lighthearted moment with Livensparger and another one of the umpires before he headed back to the dugout. He actually had a smile on his face as he said goodbye. If he hadn't been ejected, you would have expected him to come back out for a curtain call. Despite Votto's sunny demeanor, not everyone agreed with the decision to run the Cincinnati legend.
As for the Reds, they barely missed the postseason, which is fitting because they only got to the playoffs four times in the Votto era and never once won a postseason series. Getting ejected and leaving early isn't exactly fitting, but it's certainly a great footnote if this is Votto's final game. He has said that he might be back next season if he's feeling healthy and the Reds will have him.