Joey Votto Goes Full Theater Kid, Performs Rant for Chris 'Mad Dog' Russo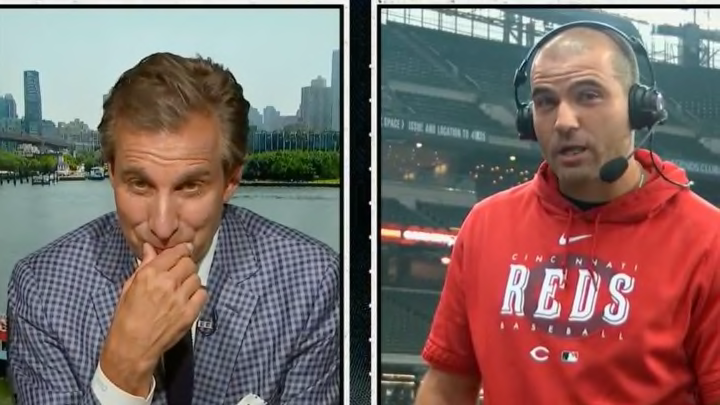 Apparently Mad Dog Russo said Zack Greinke and Joey Votto were Hall of Very Good ballplayers, which is an absolutely criminal thing to still be trotting out there because it sounds like it was ripped from the pages of a 1992 Newsday column a writer's heart wasn't fully into writing. Word got back to the Cincinnati Reds first baseman, who agreed to be interviewed on MLB Network's High Heat and prepared a scene that would get him cast in any small city's production of Glengarry Glen Ross.
The full performance will be unveiled at 11 a.m. this morning, but the preview is something to behold.
"Mr. New York City, Sirius XM Radio star, Mr. National Television, ESPN star, with your Fifth Avenue tie, and your crisp pocket squares, your tailored suits, and your polished shoes, and yourhair— your perfectly coiffed, Broadway hair," Votto said. "Must be nice to sit atop that Madison Avenue ivory tower, looking down on us with those luscious locks. Not everyone can be the next Roger Peckinpaugh, Mad Dog! You should be ashamed of yourself! You're a disgrace!"
You know what they say: behind every over-the-top monologue is a bit of truth. Russo and his highfalutin cronies in the media really seem to have taken that iconic New Yorker cover to heart and tend to forget that there are lands explored west of the Hudson River. I don't have Greinke as a future Hall of Famer but it's kind of crazy to me that Votto wouldn't be enshrined in Cooperstown given that he played after the Moneyball and analytic revolutions. His Baseball Reference is meaty and extensive and reflects an otherworldly ability to get on base. And this shouldn't matter but he's also been a godsent for those who cover the game with his penchant for a good quote.
Sure, he played his entire career in a city that doesn't even have a subway system but what it does have is John A. Roebling's second-most famous bridge after the one that connects Brooklyn with Manhattan. That has to count for something.