Joey Bosa Refuses to Take Responsibility For Bone-Headed Penalty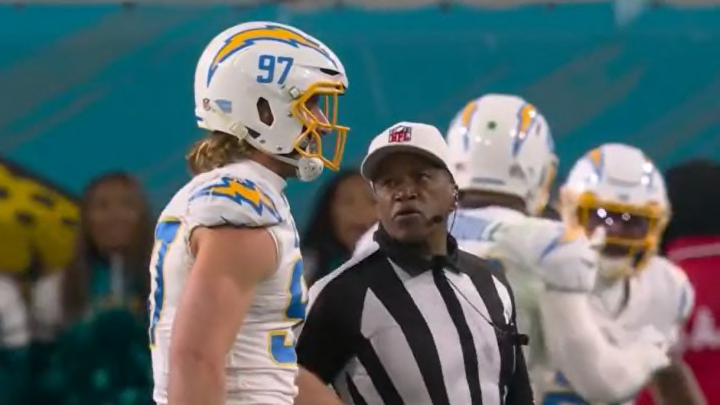 Joey Bosa was a big part of the Los Angeles Chargers' collapse against the Jacksonville Jaguars Saturday night. The 27-year-old Pro Bowler was responsible for three penalties, each cost the Chargers dearly. On Sunday, a day after LA blew a 27-point lead he refused to take responsibility for an unsportsmanlike conduct penalty he was hit with late in the third quarter.
After the Jaguars converted a 39-yard touchdown from Trevor Lawrence to Zay Jones with 44 seconds left in the third quarter, Bosa lost it. He believed he'd been held on the play -- it was borderline -- and said something to an official. The official walked up to him and had something to say, as Bosa barked back. He was flagged as a result.
Here's video of the incident.
Had Bosa just shut up, he wouldn't have been flagged. He kept going and now the NFL will likely be giving him a call this week. He refused to take responsibility for taking that penalty.
Yeah, Joey, there are things you can't say to officials regardless if they walk up on you or not.
Bosa also had a costly offsides that negated a sack in the fourth quarter, then followed that up by getting another unsportsmanlike conduct penalty for throwing his helmet.
That reaction followed a Jaguars touchdown and, thanks to the penalty, Jacksonville wound up deciding to go for a two-point conversion and got it to close the score to 30-28. The Jags wound up winning 31-30.
Bosa absolutely deserves a ton of blame and should be taking responsibility. He made $28.2 million this season. He should act like an adult.