Joey Bosa Gets Into Shouting Match With Eagles Fans Before NFC Championship Game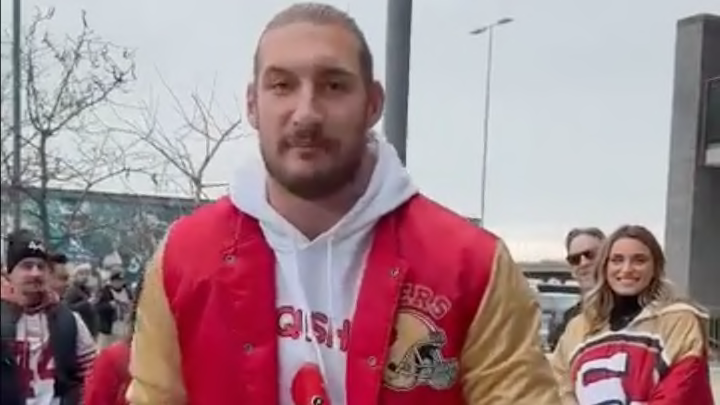 Joey Bosa /
Nick Bosa will play a key role in the San Francisco 49ers' pursuit of another Super Bowl appearance on Sunday afternoon in the NFC Championship Game. His brother, Joey Bosa, is on vacation after the Los Angeles Chargers lost in the Wild Card round and went to Philly to cheer Nick on. Before heading into the Linc, the older Bosa was approached by a group of Eagles fans and got into a yelling match with them.
The fans wandered over to Bosa with the camera recording yelling his last name. Bosa wandered over decked out in Niners gear and asked if the fan was Snapchatting his "butt buddies" before things devloved further. Bosa capped it off by yelling about how rich he was compared to these Eagles fans before finally heading inside.
Pretty uncool look for everybody involved here! The Eagles fans are lame for trying to bait a pro football player into doing something stupid on camera. Bosa is lame for falling for that obvious ploy and comes across much worse after using casually homophobic language as he did.
The Bosa family is not off to a good start today!