Did Joe Mixon Fumble Before Bengals' Game-Winning Field Goal?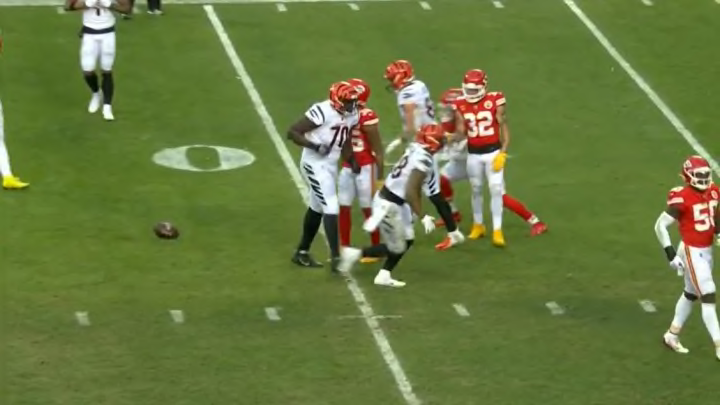 The Cincinnati Bengals are headed to the Super Bowl after an incredible come-from-behind win that saw them beat the Kansas City Chiefs 27-24 in overtime. The win was not without controversy though, as officials may have missed a late fumble on the final drive of overtime that could have flipped the game on its head.
The Bengals and Chiefs were tied 24-24 in overtime with 12:06 remaining. Cincinnati faced a second and three from Kansas City's 25-yard line, as quarterback Joe Burrow handed the ball to Joe Mixon. Mixon ran the ball off the left side for 13 yards to the Chiefs 12-yard line. That run all but sealed the game, as the Bengals kicked the game-winning field goal three plays later.
But on Mixon's run, he may have actually fumbled the ball. He fought his way through an arm tackle, but seemed to trip and go down on his own. As he was on the ground thinking the play was over, he dropped the ball and stood up to celebrate. He was never touched after hitting the turf.
Chiefs cornerback L'Jarius Sneed quickly picked the ball up, but officials had blown the play dead. If Mixon had tripped and fallen by himself and not been touched, that should have been a fumble and a live ball.
Check out the run and pay attention to the end of the play:
That certainly looks like a fumble, because Mixon fell on his own and was never touched. I'd love to hear an official explanation, but it looks like a missed call to me.
Chiefs head coach Andy Reid called a timeout after the play, because he wanted the play reviewed. In overtime, all reviews are initiated by the NFL's replay officials, and apparently no one wanted to take a look at Mixon's fumble. According to Reid, officials on the field claimed Mixon "gave himself up," in which case he wouldn't have needed to be touched to be considered down. He very clearly did not give himself up, he just tripped. At the very least, the play warranted closer scrutiny. It was fairly obvious Reid had a case,
To add insult to injury, on the same play, the Bengals had too many players on the line of scrimmage and officials missed it. That is not a reviewable call.
There are plenty of reasons the Chiefs lost on Sunday, but we'll all be wondering if they should have gotten the ball after that Mixon run.