Why Are Joe Mazzulla's Pickup Games So Violent?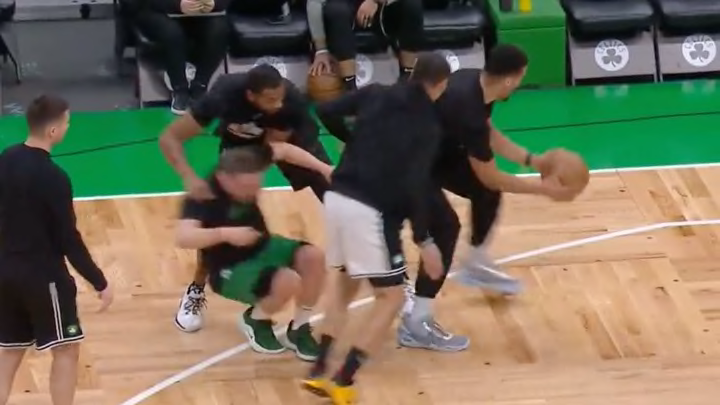 Celtics pickup /
Last night, the Boston Celtics took down the Cleveland Cavaliers on ESPN. In addition to the regular broadcast there was a plethora of behind-the-scenes content shown to the audience as part of the network's "wall-to-wall" coverage of the Celtics for the day. That is why we were shown footage of newly-minted full-time head coach Joe Mazzulla playing one of his regular pickup basketball games with his assistants.
This alone is not particularly notable, since the world found out Mazzulla plays pickup all the time when he missed a few games due to a scratched cornea suffered during those contests. In fact, we even got broadcast video of his pregame pickup sessions earlier this season. But the second video confirms what the first suggested-- these are some violent pickup games. Probably not that much more so than what you'd find at your local blacktop, but pretty shockingly so for an NBA coach who played D1 college basketball.
Here's the first footage from January, where we see Mazzulla committing two flagarant fouls in 10 seconds.
And last night's footage that proves it's not just Mazzulla who loves to get physical out there.
Love to see Dudes Being Guys out there. But... why? Isn't just hooping enough to blow off steam?
What a fascinating character Mazzulla is. He's almost as bad as Bill Belichick when it comes to showing any personality in public appearances but the fact that he's out there diving around the court with his assistants makes him that much more interesting. Above all, this guy loves ball.