Chris Jones Ripped Joe Burrow's Name Off His Jersey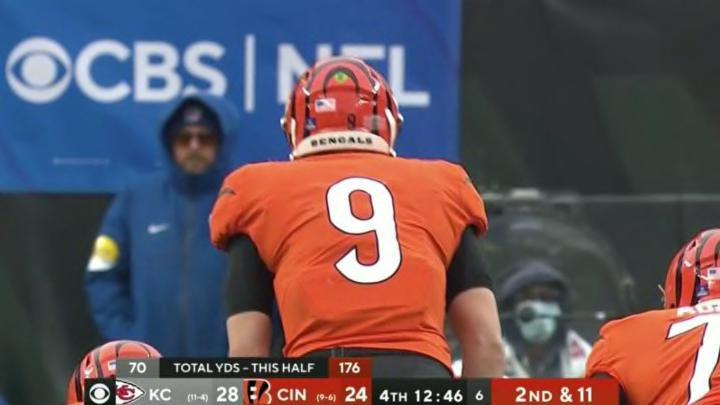 Joe Burrow (maybe) /
Joe Burrow and the Cincinnati Bengals faced their biggest test to date this Sunday when the Kansas City Chiefs came to town. It was a great game through three quarters and the Bengals fought back from a two-touchdown deficit, shaving it to only four points in the early fourth quarter.
While driving to take the lead, Burrow dropped back and was quickly faced with All-Pro DT Chris Jones bursting through the line. Burrow stepped up to avoid Jones and managed to squeeze a few yards out of a broken play. In the process, Jones managed to rip off Burrow's nameplate and the second-year quarterback played the rest of the drive without his name on his jersey.
The year is 2021 and for some reason the NFL is still using nameplates. You'd think the jersey Burrow actually wears would have the same quality as the ones sold in the merch store outside the stadium, but hey, what do we know, right?
Burrow's lack of identity did not faze him and he proceeded to throw a go-ahead score to Tyler Boyd shortly thereafter. These Bengals are for real, even if we aren't sure who's under center as of now.