The NFL Wasted 31 Hats on Joe Burrow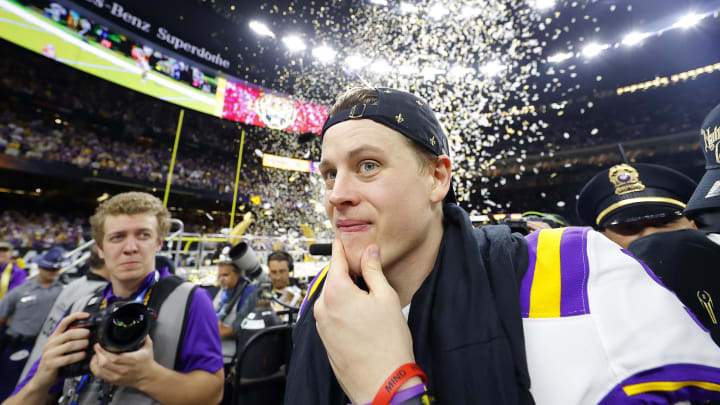 Joe Burrow in a hat. / Kevin C. Cox/Getty Images
Joe Burrow rubs his hands through his hair more often than Justin Bieber. That's not an insult. It's just a fact. The reigning Heisman champion has some luscious locks and it's rare to see him cover up the noggin with a silly hat.
For NFL Draft night, he'll have to make an exception. When a team calls your name, you gotta throw on the corresponding lid. Dems da rules. But for some reason, it appears the NFL sent Burrow 32 hats, when he really only needs one.
While it makes sense for the NFL to send 32 hats to people not named Joe Burrow (and even Chase Young), they shouldn't have wasted so many hats on a guy who everyone knows is going No. 1 to the Cincinnati Bengals. No, I didn't need Adam Schefter to tell me that tonight. Everyone's known this to be a sure thing for about four months.
Those other 31 hats will likely end up donated and given to people who might wear them. Burrow might as well throw the Bengals cap in there too. Everyone who's watched him knows he doesn't really like covering up his 'do. He threw one on after LSU won the National Championship, but by the time he was smoking a victory cigar backstage, he had already taken it off.
We'll see him throw black and orange on the dome tonight when the Bengals officially select him with the first pick. The Ohio native will head home as a hero, ready to try and turn around a franchise that has never won a Super Bowl. Maybe then he'll put on a hat again. In between, don't expect to see it. Especially not one from the 31 other teams he doesn't play for.