Joe Buck and Troy Aikman Make the Game Feel Important, No Matter Who's Playing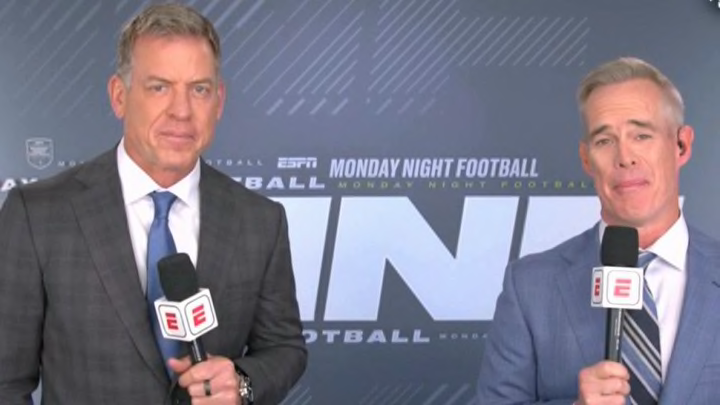 Joe Buck and Troy Aikman /
Joe Buck and Troy Aikman made their ESPN debuts last night on Monday Night Football. Everything went according to plan (other than Aikman's battle with the telestrator, that is). The two enjoyed a competitive contest between the Denver Broncos and Seattle Seahawks that featured a truly bizarre ending, and they navigated it gracefully.
It was everything you'd expect from Buck and Aikman. But, obviously, everything was different, too. It wasn't Sunday afternoon. There were no goofy Fox graphics. The two have moved to Monday night for the foreseeable future.
And you know what? It's great. Buck and Aikman being on the call give the game a certain gravitas that only announcers who have presided over loads of big NFL games can bring to the table. This is no shot at the Steve Levy/Louis Riddick/Brian Griese booth that worked Monday nights over the last few years. It isn't their fault they haven't commentated dozens of marquee football games over the last decade-plus.
But the MNF broadcast just feels different with Buck and Aikman on the call. How much you agree is largely dependent on your opinion of Buck, admittedly. Some hate the sound of his voice with the fiery passion of a thousand suns. Yet even the haters must acknowledge that voice is connected to some of the biggest moments in recent football history. Which is partially why they must hate him, but that's a larger conversation.
For millions of fans, hearing Buck and Aikman signifies something important is happening on the field -- even when it isn't really that important at all. Monday night was a Week 1 game, yet it felt bigger just because they were on the call. I wouldn't be surprised if the ManningCast's numbers are down compared to Week 1 last year because you feel like you're missing out on a big call if you're on ESPN 2 instead of the main broadcast.
The duo have their well-documented flaws as broadcasters. They are still objectively at the top of the game. ESPN brought them in because they are excellent at their jobs, to be sure. But the two were primarily lured in because they make the moment big after years of experience.
So quibble all you'd like about the quality of their broadcasting. ESPN got what it paid for and that showed last night. It's impossible to measure and only achievable after years and years of occupancy atop the broadcasting pyramid, but when Buck and Aikman are commentating, the plays on the field just feel more important.