'Joe and Amber' Wants to Lay Down the Law on ESPN Radio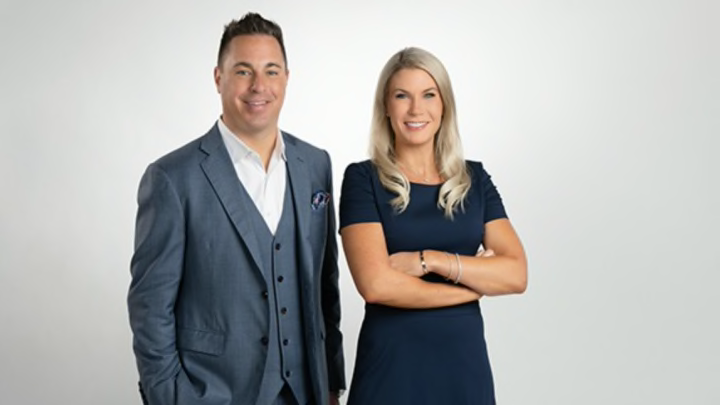 Joe Fortenbaugh and Amber Wilson have a lot in common. Both spent years doing local sports radio — the former in San Francisco and the latter in Miami. Both went to law school. And both are delighting in the joy of finding their differences as their new ESPN Radio show approaches its one-month anniversary. Joe and Amber debuted on Jan. 3 in the 7 p.m.-9 p.m. weeknight window, which can be a tricky spot to navigate. Every challenge is also an opportunity, and the duo is embracing their fresh environment as a place to try new things.
"It's been an awesome experience," Fortenbaugh told The Big Lead. "I love the idea of working 7-9 p.m. because I think it's an experimental time slot. When you're on mornings, there's a format for how mornings are going to go. When you're in afternoon drive, there's a format. Different time slots throughout the day put you in a spot where you're either heavy reaction or heavy preview. Seven to nine is just outside the daytime lineup and it's just outside some of the traditional preview or reaction and I think that offers a lot of opportunity for experiment. That's what we'd ultimately like to be able to do — create something that has a unique vibe to it. Not just your standard, 'Here's the major LeBron James topic, here are our sides, here is our sponsor, we're going to commercial.' What can we do here that could be cutting-edge? What can be different? I think we have the ability here with ESPN's blessing to try out more new things than some other shows might be able to. That's something we need to embrace and it's something we're going to run with."
"We're both very excited about that," Wilson added. "Us both having that sports radio background, it seems simple to say because we're in sports radio so why is it weird that we both have a sports radio background? There's a lot of people who find themselves there and that's not necessarily their goal. Joe and I both came to ESPN and started in a part-time capacity. We each set a goal to have a sports radio show. This is our bread and butter. We both wanted this and I think that really comes across when we're on-air together. Getting put together as co-hosts was something we were so excited about."
A two-hour program is a different animal for a pair who cut their teeth on hour-long segments and the relative marathon of a four- or five-hour broadcast. Yet listeners who dial in will be immediately struck by crisp pacing and the ability to cover a lot in shorter windows. Those 120 minutes fly by without the feeling there was too much left on the table. There's palpable chemistry even if this is very much a work in progress, which portends good things for the future.
Fortenbaugh and Wilson spoke with us at length about the project, the roads that brought them here, and where those roads could lead to in the future.
TBL: Let's start at Square One. What do you want listeners to feel and experience when they're listening to the show?
AW: Well, first of all we want people to have fun. Obviously to stay informed and be engaged. We are both sports radio hosts by nature because we both did it for so many years and we both did it on the local level so we're both truly sports radio nerds. We're also both sports radio fans. We didn't come from some other medium and get placed in sports radio, so we both really enjoy the craft itself and I hope that shows when we're on the air together. But there's also other sides to us. Joe has the betting portion of things, which is such a growing space. He hosts Daily Wager and across our betting platforms here at ESPN, so we weave that into the show. We're not a betting show, we are a sports talk show, but there still is an emphasis on some betting and it comes up naturally in the conversation. That's a lot of fun and I think it's a really good way for people to get involved if they maybe aren't experts themselves. Like me, I'm not the expert so I'm learning a lot from Joe, so it's a fun dynamic in that sense. Then we're both law school grads so we bring that to the table too. That certainly makes an appearance. So it's a lot of having fun but also providing a lot of information for people to absorb too.
JF: No goals right now. The only goal I have right now — and I have a giant whiteboard behind me with notes, ideas, stuff like that — I've completely cleared it. There's one thing on it and it's "One Percent." The only thing I want to do with this show is get one percent better every day. In terms of what it's going to be in a year, what it can be in five years, I'm not focused on that right now. Amber and I know each other a little bit, we did some fill-in work together over the past few years so we've gotten to know each other but we've only met in-person twice. This is Week Four of the show. We've done less than 20 shows together. My opinion is: each day hopefully we have a little bit more chemistry and from there we can figure out how to get this to the next level. There's always going to be ideas, there's always going to be bits, but for right now just have a good time talking about sports and get a little better each day.
TBL: That's interesting. Someone once said you shouldn't even watch the first 10 episodes of a sitcom because basically the characters are trying to find their voice. I'd imagine that you both know your individual voices pretty well being veterans in the industry but determining how you're going to play off each other in that collective voice, that's something you can't just hit the ground running with on Day One. It seems like your mindset is 'look, we're going to be figuring this out on the fly' and that almost seems like a more healthy approach than thinking you're going to have it all buttoned-up right out of the gates.
AW: Well, it's also fun because the audience gets to know us as we are further getting to know each other. They get to see that development hopefully over time and that really is the bread and butter of radio. Chemistry matters in television, sure, but it matters a whole lot when you're talking about sports radio. Chemistry is everything. I think Joe and I have a lot of natural chemistry between us but certainly you can't just manufacture it. It's something that comes from talking to someone for hours every single day over and over again. And that's essentially what talk radio is about so we're on that journey for sure and the audience gets to join.
JF: I equate it a little bit to my son's flag football team that I help coach. We sit there and the head coach has so many great ideas. He's done this for awhile and he's really good at it. But sometimes we get so caught up in the planning and what the practice is going to be instead of just getting them out there and letting them run around. Letting them figure it out. I look at the show like that as well. We can sit in strategy meetings all day long, we can kick around ideas and have concepts and have listening sessions and toy with it but the reality is 'get the reps'. Reps. Reps are going to mean more than anything right now. It'll build the chemistry. We'll see what we like. We'll see what we're bad at, which is the most important thing right now so we can figure out what we need to improve upon.
TBL: I've listened to a few shows and was really struck by the impressive pacing. There's not a lot of prolonged pauses and it moves at a nice clip. Knowing that you are doing this from different locations, I think that's even more of a feat. Can you speak about the importance of developing a comfortable rhythm and what it might do for the audience?
AW: It's certainly a goal of ours to stay pacey because it helps the listener. It's engaging and we get to move along. We have a lot to hit and only have two hours to do it. Joe and I, because we both came from local radio shows where we were on-air for at least four hours a day, two hours for us is very, very quick. I know it's an adjustment for both of us. We want to be able to get in as much as we can and it's certainly something we have spoken about. I think it's one of the advantages of our show and hopefully it sets us apart as well.
JF: In San Francisco I had 65-minute segments for morning radio. We had two segments that were over an hour long. These segments are 9 or 10 minutes. She's a big mouth, I'm a big mouth, there's never going to be a segment where we're worried about getting to the end of it. There's never going to be a show where it's tough to get to the end. People talk about the dog days in summer, we could do baseball for two hours, it's not a problem when you have segments that are this short with two people well-prepared to talk.
TBL: Does it energize you not having to do the local market of resetting the clock and playing the hits, mentioning the same thing every 45 minutes?
AW: For me, going to national was sort of a breath of fresh air. I had a lot of fun in Miami for a lot of years but getting to go national and talking about so much that's available to you, where you can quite literally talk about any team in any sport was exciting. That's just something that differentiates the two. National means you can talk about anything and also means there's so many more things that you need to know about. It presents a whole new challenge. When you are on local radio you know a whole lot about a little and when you're on national you know a whole lot about a lot. Maybe you're not an expert in any specific area but you have to be on top of everything. That really re-energized me in my career. Initially it was via fill-in work and now we have this new challenge of an everyday show.
JF: I see it as two totally different games. One of the things I loved about local radio: there was a game the Niners played against the Falcons maybe four or five years ago. The Falcons came in and Kyle Shanahan had a situation late in the fourth quarter where it's kick a field goal from 40-something yards or go for it on fourth-and-one and if you get it, you'll be able to run out the clock. He kicks the field goal, Falcons get the ball back and go down the field to score a touchdown to win the game. I did four hours on that. We did four hours on that discussion and I loved it because you have to be as creative as humanly possible. You have to be as energetic as possible to be able to take that topic and do it for four hours with the passion and energy it deserves and then slice it from every possible angle. Here the ability to pop in and realize it's a nine-minute segment but between promotions and getting the sponsors in and Amber's thoughts and my thoughts, you have a small window where you have to deliver the most impactful punch possible because you're off and running on something else in the next segment. Two totally different games that activate different creativities but both equally fun.
TBL: This might be Eastern Time Zone bias. The 7 p.m. to 9 p.m. time slot fascinates me. From my uneducated view it seems like one of the hardest ones to do because it's not necessarily pregame, you don't have enough information about the stuff happening in most of the nightly games. How do you view keeping your show current so you're not delayed on the news of the day's topics while also alluding to things happening that will set the stage for the big stories tomorrow? It seems like a unique position.
AW: You nailed it with the challenges of that time slot. The reality is that you don't want to just regurgitate the same subjects and the same takes that everyone has been hearing since 6 a.m. in our radio lineup. At the same time, like you said, the games haven't kicked or tipped off yet so there's only so much in terms of real game action so a lot of what we do is a mixture of it all. If there's huge sports topics, obviously we're going to get into those and provide our own opinions on those but we're also going to set the stage for whatever is coming up that evening. I think that sets us apart because a lot of the other shows don't get to do that. They're not necessarily reacting in real time to what's about to come up. We get to do that and thread it in. It's certainly something you have to negotiate. I don't believe either of us have done this time slot before. Seven to nine, I think I only did it on a fill-in basis one time out of the hundreds of shows I did here at ESPN. I welcome the challenge because it provides us an opportunity to set ourselves apart from the rest of the lineup.
JF: The time of the year is going to be the distinguishing factor as to how that time slot goes. I think during football season there's going to be far more room in terms of maybe reacting off of what happened over the weekend or what's coming up. You've got so much football that that's going to be powerful all throughout. I think when we're outside of football season then it's going to be a lot more reactionary in the moment. What's happening in the NBA? Because let's face it, the first month of the NBA season you can try to hype up Giannis vs. the Warriors all you want but if it's late October people are focused on college football and pro football, right? The NBA, the ability to sell one of these marquee matchups like Golden State-Boston late in the year after football, that's when you can really dive into that and break it down through the course of the game as it's happening. I'm really looking forward to the switch from how we handle it through football to how we handle it outside of football.
TBL: Let's hear about the law backgrounds from each of you.
AW: I'm a lawyer licensed in Florida and Georgia. I'm a practicing attorney. I do it on the side of this. Obviously I don't do it as often as before now that I have a full-time regular job here. It's something I've been doing for the last 10 years that I really enjoy. I was in television, I was in sports for many years before I decided to go to law school. I went for seven years, a bit later in my life and career. I was thinking I was going to get out of broadcasting and go into the business side of sports in the legal arena and I just kept getting sucked back into broadcasting. But I did practice alot. I practiced entertainment, business litigation, family and sports law. I even worked in-house for the Miami Dolphins during law school in their legal department. I loved being a lawyer, I do love being a lawyer but I like being a sports broadcaster just that much more.
JF: I went to law school right after college in part because I wanted to keep partying, I'm not going to lie. I wasn't ready to start the real world. I wanted the law degree not to be a lawyer, I wanted to work in sports. I even wanted to be an agent or I wanted to work in a salary-cap department for an NFL team. Now, that didn't end up happening but the agent I interned for in San Diego during law school ended up launching a website called National Football Post, which when we launched it in 2008 I was brought in to kind of manage the site and write about fantasy. I started writing about sports betting and it kind of launched a media career that led to radio, that led to TV that led to where we are today.
TBL: A lot of people see ESPN as Number One with a Bullet, the place to be. I know it's been a bit of a journey to get there. When you reflect on the years of hard work, and the times when perhaps it seemed like it wouldn't happen, what do you feel? Have you allowed yourself to take stock at having your show on that platform or is it still too new to do that?
AW: I've definitely taken stock. It's quite literally a dream come true for me. Being on ESPN is a dream that I've had since I was 12 years-old. To even be able to say those four letters is such a dream, to have it anywhere near my name. I mean, they put up my bio on their site the other day and and it still makes me giddy inside. None of it is lost on me. It was such a journey. I majored in telecommunications journalism in college, I always wanted to be a sports broadcaster since I saw the Melissa Starks and Jill Arringtons of the world doing it when I was a kid. It was a heck of a ride getting here. When I was in college I definitely didn't think it was going to take me 20 years, I probably didn't think the road was going to be as curvy as it was. It makes it all the more sweet for me. Nothing came easy. There were a lot of diversions along the way and I'm a much better broadcaster because of that. I could not appreciate it more.
JF: I believe I'll have been with ESPN about four years once we get to March. I think that's how old Daily Wager is going to be. I started part-time and have been full-time for just over two years. I'm the exact opposite of Amber. I have not taken any stock of it and that's part of a problem I have. I don't allow myself to celebrate wins. I don't allow myself to celebrate success. I think deep down somewhere I feel like if I start doing that I'll get complacent and then I will lose my edge. My edge has always been being one of the hardest-working people in the room. Now, I might not be the most talented on radio or TV, but I'm the first person in and the last person out. I'm grinding it 365 days a year and the work ethic is what's gotten me to this point and hopefully in a position to keep doing this.
TBL: Yeah, I guess it's only reasonable that different people have different approaches. You're both doing the same job and it's a shared product but what makes it interesting is that there are two different voices. So how else are you different?
AW: Well, we're both different, for one because I'm a woman and he's a man. [Laughs] That does bring a different vantage point to things. I'm very proud to be the only named woman in the lineup. We certainly need more women in sports radio, we don't have enough. We have some wonderful women who work at ESPN in fill-in basis but I'm thrilled to be the representation of that and to have taken over for Sarah Spain in that regard. I think also Joe and I tend to disagree on many things, which is funny because I honestly think we have a lot of similarities in the things that we enjoy and the background of law school. We tend to disagree on subjects a lot, which I think makes our show so much better because what you don't want in sports radio is two hosts who agree on stuff. And that disagreement is genuine, it's not a put-on. We natural tend to see two different versions of things or feel differently about something that's posed to us in a pre-show meeting by our producer. That works out well because it provides us a whole lot of content.
JF: Early on, all we've been figuring out is how much we have in common. We're close in age. We both went to undergrad at state schools that have big football programs in Florida and Penn State. We both went to law school afterwards. We're both parents of boys who are younger. We both did morning radio. The list goes on. So we're actively figuring out the differences. I can tell you already I'm far more unhealthy than her. It's nice because there's a mutual respect so we can work our way through the nuance of the discussion.
TBL: As an advocate for producers I couldn't show myself in the community if I didn't ask about the production process and who you are working with.
AW: James Steele is our producer and he's as intimately involved in the show as we are. We have a text thread throughout the day where we communicate and then we sit down normally an hour before air and have a real pre-show meeting to map out what we're going to do. Going through the topics is where Joe and I discover that we have different views. Joe and I have a very similar philosophy with radio since we both come from so many years where we like to keep a lot of stuff for air to get the real reaction. So there's not a lot of us doing the show before the show but there's constant communication with our producer in terms of building it out.
JF: James has done an excellent job of quarterbacking that key thread that we're all on 24-7. As things are developing, he's kicking around ideas. He does a nice job of probing us to take our temperature, asking if this is something we'd be into doing or not. He has a really good year for that. He has a knack for figuring out where we're going to be at our best. We do an audio files type of segment where if it's not something we can flesh out in 10 minutes, maybe it's something we can flesh out over two minutes. So he's on top of all that and he's got a really good ear for features, too. Things that could develop naturally as we're debating things. He kind of oversees all that and we're throwing ideas out over the course of the day in terms of what the next show will look like and then also bigger-picture things.
TBL: What are some of those segments you've tried out that went well that you think have the potential to be staples going forward?
AW: The audio files segment we call Sound On, Sound Off. We take audio from the last 24 hours that might be interesting and react to it. We've also done Jury Duty, which is us arguing a different side of a subject using that legal background we both have. James acts as the judge, jury and executioner in that regard and he decides who wins. We do Pizza Money multiple times per show, which is where Joe gets to use his betting expertise and give you a little expertise on a small wager. Not something that you're going to bet the house on but something you can put a little pizza money on. That's one of the ways that we do weave the betting through the show without inundating you with it. It's honestly a great way to learn that world if you are interested in learning and frankly we all should be because it's a wildly growing space.
JF: Yeah, betting has been taking off everywhere, you don't need me to elaborate on that. It's going to weave itself in and out of a lot of stuff happening at ESPN and we have a few people who are on top of it now. We have Daily Wager and we appear on a couple of different shows. But ESPN Radio didn't have anything. You can flash up odds but no one working in the daytime lineup or weekend lineup has the betting background, so I think that's something they wanted to incorporate but the last thing we wanted to do was come in and say 'we're doing a two-hour betting show every night' because it's the same thing talking about it on broadcast. Like, it's cool that Al Michaels teases it in the end but no one wants to hear about the odds all the way through the traditional broadcast. People either aren't interested in it or are interested and don't want it overpowering the conversation. We're trying to add more of it than anyone else has. For example, all the breakdowns of the games this weekend, when we're doing that Friday night, we'll have that element but it won't just be a traditional picks segment. We want to educate you as to what the line movement means. We want to educate you as to what -135 means. What a parlay is and whether that's a good bet. We want all of that in there without overtaking everything else.