JJ Redick Asks Why Ja Morant Should Be Punished When Greg Abbott Can Tell Everybody to Buy More Guns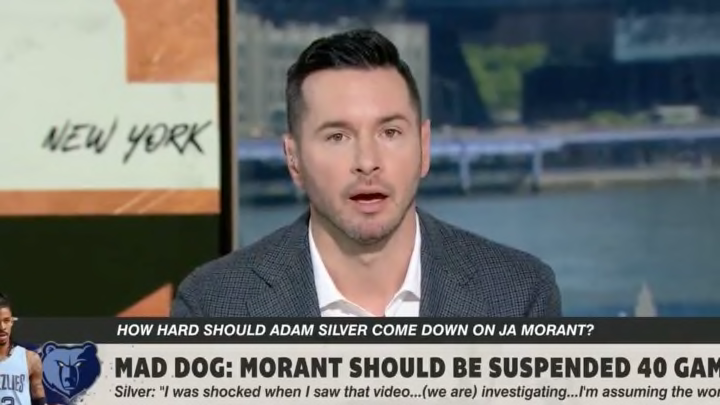 Ja Morant's decision to dance online with a gun in his hand again has gotten him into hot water and vaulted his name into the middle of NBA playoff discussions. This time, though, Morant might be missing some serious time. He released a bland apology statement yesterday and the Memphis Grizzlies heroically suspended him from all team activities (of which there are none), but Adam Silver's tone when asked about Morant before the lottery yesterday suggests consequences will be coming down hard on the young superstar.
As we all know First Take is the ideal place for the nuanced conversation required to talk about Morant's relationship with guns and JJ Redick had the spotlight for a moment on Wednesday. He used that time by asking why the NBA should be aiming to bring down the hammer on Morant when he didn't break the law. And also Greg Abbott, governor of Texas, can tell people to buy more guns without consequence so why should Morant face those consequences?
Look, it's easy to conflate the Morant situation with the gun epidemic in the country at large. But what Abbott is doing has zero to do with what Morant did wrong, and not just because Morant lives in Tennessee.
Just like last time, Morant is not getting punished by the league because he had a gun. The last time around the investigation found he hadn't broken the law and it wouldn't be a surprise if that was the case again. He got hit with a suspension then, and will get hit with a suspension now, because what he's doing does not align with the league's code of conduct. It doesn't matter if he owns the gun legally, waving it around like it's a toy is the problem. Moreover, if he wants to do that, he can! He just cannot do it on camera for the world to see. Something he fails to recognize, for some reason.
Morant's disastrous few months could be indicative of a larger problem with American gun culture. I get why Redick would want to make that larger point, because it is an important problem for us to all face. But the suspension he's facing has nothing to do with anything except for how he's affecting the NBA's image. Greg Abbott does not represent the league. Morant does. And that's why he'll be missing games while Abbott can keep telling people to buy guns.