JJ Redick Rips Into Chris 'Mad Dog' Russo Over Draymond Green Comments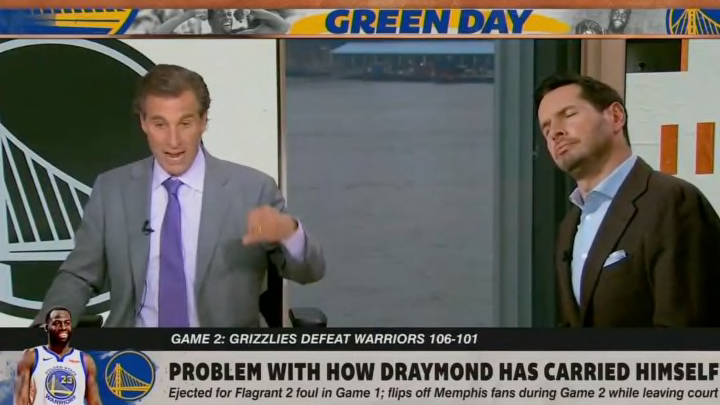 JJ Redick and Chris 'Mad Dog' Russoo /
On Wednesday, Chris "Mad Dog" Russo moseyed his way onto the First Take set for his weekly spot across from Stephen A. Smith. The production team decided to bring JJ Redick into the mix after he had a clip go viral a few weeks ago in which he poked fun at Russo for adamantly defending Bob Cousy's place on the list of greatest point guards of all-time.
This time around, it was Draymond Green that caused a clash between the longtime radio host and former NBA sharpshooter. In case you missed it last night, Green took an elbow to the face during Game 2 of the Grizzlies-Warriors series and had to go to the locker room for a spell after he started bleeding. He flipped off a booing Memphis crowd on his way out and said afterwards that he doesn't care about the fines coming his way because he makes a lot more money than whatever he's going to have to pay the league in exchange.
Russo heavily criticized Green for his actions, saying the Warriors forward has been overtly polarizing over the years and that America is tired of him. Redick responded by pointing out that Green hosts a successful podcast that largely just features his own commentary, and has a deal with Turner to appear on television to speak his mind. Russo fired back that the older fanbase of the NBA prefers the days of when players would go about their business quietly, at which point Redick brought down the hammer and said Russo is speaking about athletes the way Fox News speaks about athletes.
Here's the full clip:
A tremendous segment from Redick, who is quickly becoming a fan favorite on debate television. His takes are measured and intelligent. His way of thinking aligns with the modern NBA viewing population. ESPN has a budding star on their hands who clearly isn't afraid to go to war with titans of the sports talk industry.
Impressive stuff.