Jimmy Pitaro Describes How Pat McAfee Fits Into the Long-Term Vision of ESPN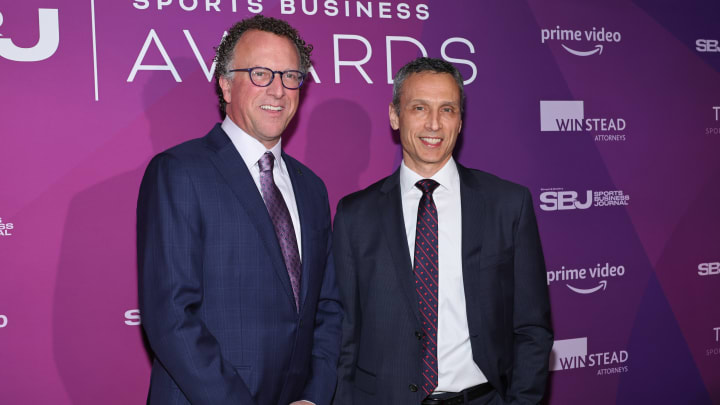 15th Annual Sports Business Journal Awards - Arrivals / Theo Wargo/GettyImages
ESPN signing Pat McAfee last week was a pretty big deal, to say the least. Many a thinkpiece was written about how the tides of sports media are changing before our eyes. While those sorts of changes tend to happen so slowly we don't notice until they're complete, the McAfee deal is significant in some simple ways. Most notably, it is reportedly an impressively large investment that reflects a very, very high opinion of what McAfee can bring to the table.
The Worldwide Leader has made it clear what they want from McAfee in the short term. He'll become a permanent part of College GameDay, perhaps for a very long time. His show will be slotted into weekday programming on cable while simulcasting on YouTube when football season begins this fall. It's the long term where things can get a bit murky. McAfee hasn't been around for that long and his particular brand of capital-f Football Guy attitude doesn't entirely mesh with what ESPN and Disney tend to push towards the broader audience.
Jimmy Pitaro spoke to The Big Lead at the 2023 Sports Business Journal awards and expressed confidence that McAfee's broad appeal will make him a valuable asset to the company.
"When we talk about our priorities at ESPN, one of the things we always mention is audience expansion," Pitaro explained. "That means a lot of things, but it especially means attracting a younger audience. We feel like Pat really helps us in that regard.
"I have a son and a daughter, both of whom not just know who Pat is but they like him, and I have a father who also happens to really like Pat. That'll tell you a lot about his appeal. We've been in business with Pat for some time by now. He's done a fantastic job for us on College GameDay, he's done some alternate broadcasts that have really resonated with our audience, so we feel like his show is a natural extension of what we're already doing."
McAfee the personality can certainly do all that. The more interesting aspect is whether his show, and all his buddies, can do the same. Pitaro said that the network is "optimistic" introducing the Pat McAfee Show into the weekly lineup will help continue their growth in that deparment; Ddring primetime, Pitaro said, ratings were up 14 percent on ESPN. The proof is in the pudding after the end of 2022 and beginning of 2023 saw record ratings posted for shows like First Take and NFL Live.
It's a big leap of faith for ESPN. One whose results may not reveal themselves until far down the road.