Jimmy Dunne: Find Me Someone Involved in 9/11 And 'I'll Kill Them Myself'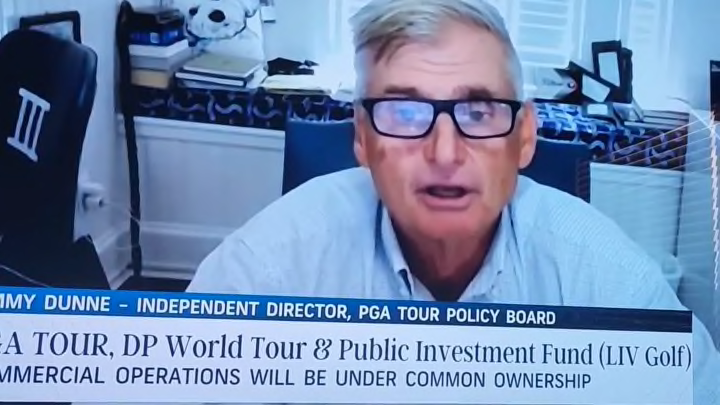 Jimmy Dunne /
On Thursday, PGA Tour board member Jimmy Dunne appeard on the Golf Channel for an interview about the PGA-LIV merger. In case you don't know, Dunne appears to be one of the primary architects of the massive move and also went on record less than one year ago ripping anybody who joined LIV. Previously, Sports Illustrated wrote a long feature on Dunne centered around how golf essentially saved his life; Dunne played golf on 9/11 instead of going to his office in the South Tower.
All that is important context for the below video in which Dunne vehemently denies that the Saudi-backed Public Investment Fund had anything to do with the terrorist attack. Then he said that if anybody could find someone involved with the 9/11 attacks, he'd kill them himself.
A full transcription of his comments:
The PGA-LIV media tour is not going well, to say the least. Yesterday we had Jay Monahan making a fool of himself on television when he was asked about using 9/11 as a tool to shame LIV when clearly he didn't mean any of it. Today we have a pretty significant figure involved in the merger promising to kill the perpetrators of 9/11 with his bare hands.
It's all bad and it's exactly what they signed up for. We're watching guys bend over backwards to justify betraying their morals in exchange for many millions of dollars in real time. It's remarkable to see in many ways. As has been the case with all this, though, it's just sad more than anything.