Jimmy Butler Serves as Cover Star & Guest Editor of Sports Illustrated's 2023-24 NBA Preview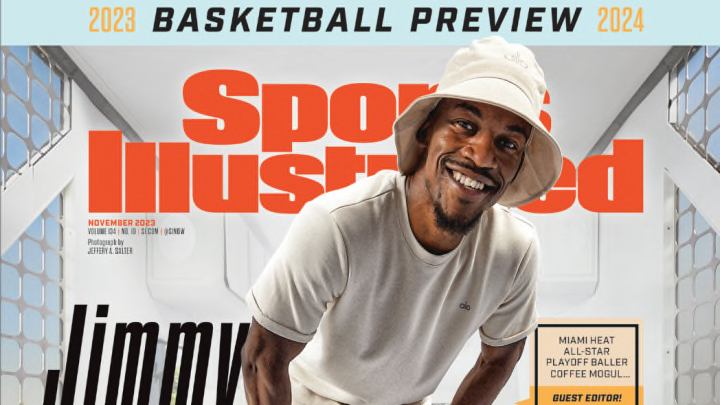 Jimmy Butler / Jeffery A. Salter/Sports Illustrated.
Jimmy Butler had a relatively quiet season last year by his standards, but he reminded the NBA world why he deserved the Playoff Jimmy moniker once the postseason started. He led the Miami Heat to a massive upset over the Milwaukee Bucks, toppling the top-seeded team in the East as an eight-seed. Butler then helped the Heat defeat the New York Knicks and Boston Celtics en route to his second NBA Finals appearance in four years. Miami came up short as the Denver Nuggets won the title in five games but their Finals run as the eighth seed that had to battle through the Play-In Tournament to even qualify for the postseason will live on in basketball history.
It also makes this season a big one for Butler and the rest of the Heat. Despite all the rumors, Miami did not land Bradley Beal or Damian Lillard, the two superstars to hit the trade market this offseason. They lost Gabe Vincent and Max Strus, two key contributors to their unlikely playoff run. That means all eyes are on the 34-year-old Butler to elevate the Heat to the heights they proved capable of reaching last year.
All this and more is why Butler was chosen as Sports Illustrated's cover star for the magazine's 2023-24 NBA Preview edition.
"Jimmy Butler is one of the most transcendent players in the NBA today, an elite talent with a unique personality and voice on and off the court," said Sports Illustrated Editor-in-Chief Stephen Cannella in a press release. "We wanted a fun insider's view to guide SI's look at the upcoming NBA season. Jimmy brings that and more—and he's just as excited to talk tennis as he is hoops."
Here's the full cover starring Butler.
Jimmy Butler / Jeffery A. Salter/Sports Illustrated.
Additionally, Butler served as a "guest editor" for this issue of SI. In a statement crowning Butler as the "most interesting man in the NBA," Sports Illustrated described exactly what Butler will bring to the table from an editorial standpoint for their 2023-24 NBA preview.
"The most interesting man in the NBA, Miami Heat superstar Jimmy Butler – a burgeoning coffee mogul, tennis fanatic, and aspiring country crooner – serves as guest editor of Sports Illustrated's NBA Preview, part of its 2023 Basketball Preview issue, available at SI.com and on newsstands today," reads the statement. "Alongside SI NBA insiders Chris Herring, Chris Mannix and Rohan Nadkarni, Butler brings readers scouting reports, predicts in-season storylines, and goes beyond the NBA to reflect on his love of tennis and his friendship with the sport's next big star, Carlos Alcaraz."
Here's what Butler had to say about his experience with SI:
"I enjoyed being the special guest editor for Sports Illustrated's new NBA Season Preview Issue. Gracing the magazine's cover while also being able to give readers a glimpse into my life on and off the court was fun. From talking hoops, tennis, and soccer to highlighting some of my favorite coffee shops to visit on the road–this issue has it all," said Butler.
Along with plenty of NBA talk, this edition of Sports Illustrated will also include breakdowns of the upcoming NCAA men and women's college basketball seasons, a feature on tennis' succession plan with Carlos Alcaraz and Coco Gauff, and a look at Jimmy Garoppolo's time in Las Vegas with Josh McDaniels.