Rep. Jim Jordan Asks Roger Goodell Why Dave Portnoy is Banned From NFL Games [UPDATE]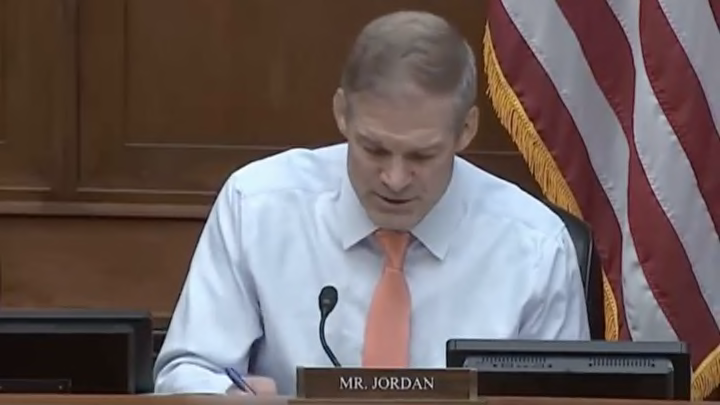 Jim Jordan /
On Wednesday, Roger Goodell appeared in front of the House Oversight Committee investigating the Washington Commanders. Goodell came voluntarily and penned a six-page letter to the Committee explaining in detail how the NFL has investigated the workplace allegations made against Daniel Snyder and the other higher-ups in the organization.
Goodell was then put under the spotlight once he called in via Zoom as questions from the Committee rolled in. Representative Jim Jordan decided it was a good time to ask why Goodell banned Barstool Sports founder Dave Portnoy from attending NFL games. Goodell said he was "not familiar" with the situation.
In case you are unfamiliar like Goodell, Portnoy has taken great pleasure over the years in poking the bear as far as the NFL goes. It culminated during the 2020 NFL Draft, when Portnoy won a contest that would allow him to watch a game with Goodell himself. That obviously never ended up happening.
Barstool Sports was banned from NFL games after the protest they staged at the league headquarters in 2015 against Tom Brady's Deflategate suspension. Portnoy and a few other Barstool members were arrested after refusing to leave the premises. In 2018, Portnoy and PFT Commenter snuck into Super Bowl Media Day, where they managed to interview a handful of players before once again getting arrested. Then Portnoy himself was literally dragged out of that year's Super Bowl.
There's no chance Goodell isn't "familiar" with what's happened with Barstool but it has been a few years and a House Oversight Committee investigation into the Washington Commanders is not the time or place to discuss Dave Portnoy.
UPDATE: Portnoy caught wind of it all and posted a series of responses on his Twitter page, including the below tweet.