The Mike White Hive is Back, Baby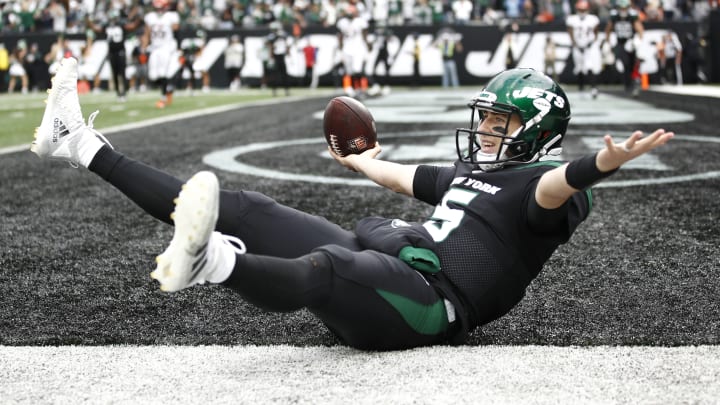 Mike White! / Sarah Stier/GettyImages
Every NFL season, there are a few moments that take the league by storm but aren't significant enough to remember a few years down the line. In 2021, one of those moments was the inexlicable ascension of New York Jets backup QB Mike White to the heavens in a game against the Cincinnati Bengals. In his first-ever NFL start, White threw for 405 yards and three touchdowns to upset the eventual conference champions and had the crowd chanting his name. It was an incredible time to be watching football, even if it was ultimately inconsequential, and it spawned a fandom known as the Mike White Hive.
Well, after Wilson got hurt again in last night's preseason opener against the Philadelphia Eagles, White is back in the spotlight. And thus the return of the Mike White Hive is upon us.
Wilson went down with a non-contact injury while scrambling and everybody feared the worst. Twitter doctors galore crowed that Wilson had clearly torn his ACL and the ever-cursed Jets franchise suffered yet another blow. But Saturday morning brought great news for Wilson and the fans-- the team believes it's only a bone bruise and hopes he'll only miss two to four weeks.
There is a chance Wilson returns before the season opener on September 11, but it feels very likely the Jets will not rush their hopeful franchise quarterback. They'll want him to take his time. If Wilson is the QB that is promised, it's all about the long game.
Which means White will be up. Will he be able to recreate the magic of 2021? Probably not. The other full game White played last year, he threw four picks and zero touchdowns while completing 54 percent of his passes. That's closer to who he is as a player than the other-worldly Bengals game.
But the preseason is a time of optimism and White should have his chance. Mike White Hive!