The New York Jets Invented a New Penalty, Got Called for the Weirdest Offsides of the Season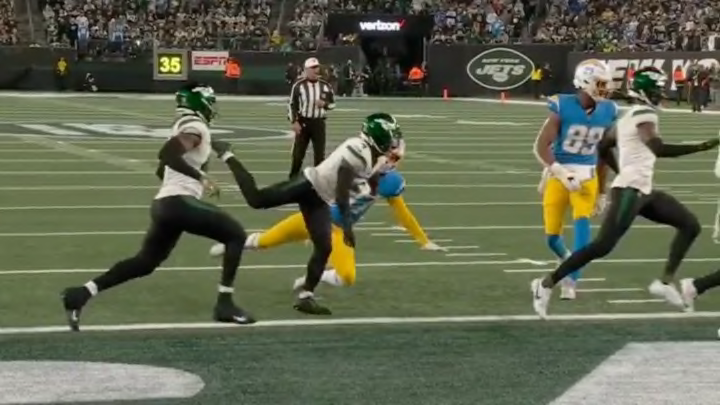 DJ Reed committed a penalty that many people had never seen before during the Las Angeles Chargers - New York Jets game in Week 9. The Chargers got the ball on the goal line after a catch and run by Austin Ekeler. After a weird broken play on first down the Chargers tried to hurry up and get a snap off on second down while the Jets changed personnel. That's how Reed ran into wide receiver Simi Fehoko.
The official boring call was "offsides," but come on. Have you ever seen anything like this before? Peyton and Eli Manning hadn't. A defender taking out an offensive player form behind. Pre-snap. And the offense still snapped the ball despite the fact that one of their players had been knocked on the ground.
It's this kind of innovation that makes the New York Jets so interesting. We're halfway into the season and Robert Saleh's group is still willing to show the creativity and courage to innovate. And to debut a new type of penalty on national television? What's not to love.
The Chargers scored on the next play as Austin Ekeler ran the ball in. And the Jets didn't even try to tackle any Los Angeles players before the snap to stop it. When your offense can't score, who could blame them if they did?