Jets Fan Loses Teeth While Furiously Cursing Out Zach Wilson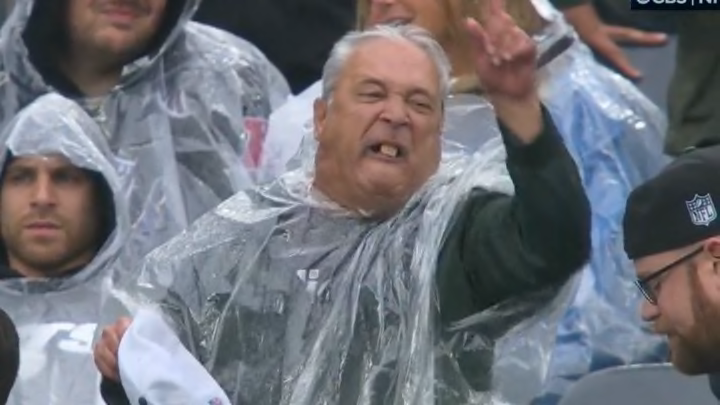 Jets /
New York Jets fans were hoping Aaron Rodgers would be the man who would help break the team's lengthy losing streak against the New England Patriots. Unfortunately he did not last long enough to do so. That meant it was Zach Wilson's job on Sunday to lead the Jets to their first win over the Patriots in seven years, aided by homefield advantage at Metlife Stadium.
It went about as you'd expect. Wilson looks just as bad as he did last year when he was the worst starting QB in the NFL. The offense was toothless and unable to capitalize off anything positive the defense did. And after New York's third three-and-out in four possessions to start the game, the boo birds came out. The home crowd thunderously booed Gang Green, and one fan got so worked up his fake teeth became dislodged.
The CBS cameras zoomed in on the crowd following the boos and captured this Jets fan angrily cursing out the efforts on the field before having to stop and fix his teeth. Tony Romo and Jim Nantz had a good laugh.
That really sums it all up right there for the Jets this year, doesn't it?
You gotta feel for the kid a little bit. Wilson is definitely not good at his job but he wasn't supposed to be here, getting put in a torture chamber by Bill Belichick's defense again. He was supposed to be hanging out on the sideline, learning how Rodgers solved the problems in front of him. Now he's spiking the ball on third down and long because his offensive coordinator (rightly) doesn't trust him enough to throw anything more than a screen.
We'll see how much longer the Jets stick with the party line that Wilson is the QB. Because he is running out of chances to prove that he can be anything other than an active detriment to winning.