Latest NFL Leads
Three Trade Destinations For Jets WR Denzel Mims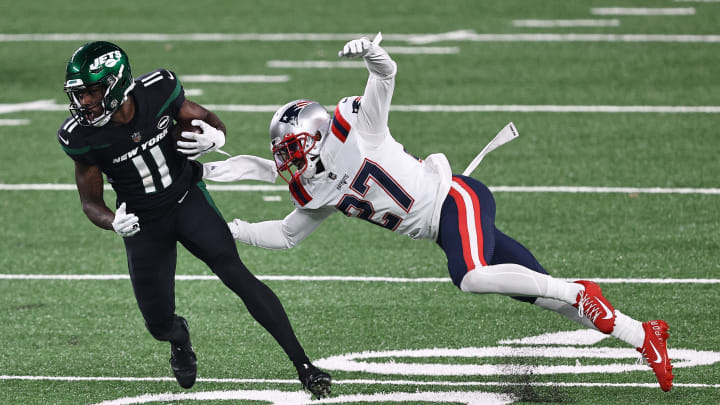 Denzel Mims / Elsa/Getty Images
The New York Jets picked Denzel Mims in the second round of the 2020 NFL Draft to much excitement. Mims is a physical specimen who ran a 4.38 40-yard dash at the combine and has a size advantage over most opponents, standing at 6-foot-3, 207 pounds.
Mims didn't live up to any expectations his rookie season; he dealt with nagging hamstring injuries for most of his first season in the NFL and didn't put up big numbers once he returned, clearly struggling with the adjustment to the big leagues. That probably wasn't entirely his fault, as evidenced by the fact that the Jets went 2-14 and cleaned house this offseason.
Most hoped Mims would thrive under the tutelage of anyone other than Adam Gase and catching balls from anyone other than the unholy combination of Sam Darnold/Trevor Siemian/Joe Flacco. In the early days of Jets training camp, that apparently has not happened. ESPN's Jets reporter Rich Cimini wrote this morning that Mims has been running with the second and third teams in drills and appears to be the odd man out in the receiving room.
FLORHAM PARK, N.J. -- After some promising moments in an abbreviated rookie season, Denzel Mims is sixth, maybe seventh in the New York Jets' pecking order at wide receiver.
Leapfrogged on the depth chart by three offseason additions, Mims is finding his way in an offensive system that might not be suited to his skill set. If the situation doesn't change in a month, the Jets will have a tough decision: Do they stash him on the roster and give him time to develop? Or, do they see what he might fetch in a trade?
The Jets still have a few weeks to see if Mims can figure it out. Nobody wants to give up on a second-round pick after one year, especially for the 2020 class, who didn't really get an offseason and dealt with a variety of severe off-the-field distractions while attempting to acclimate to the NFL. If New York decides to move on, though, who could take a chance on Mims?
San Francisco 49ers
The 49ers seem the natural landing spot for seemingly talented wide receivers still trying to figure it out because of Kyle Shanahan. Specifically, if Shanahan can't fix him, then nobody can. The Niners aren't lacking for talented receiving options but have a relationship with the Jets after the Robert Salah hire, so they'll put in a call just to see regardless of if they pull the trigger. San Fran also won't have a ton of easy ways to acquire talent after giving up a horde of draft capital to trade up for Trey Lance this past April. Mims is worth a shot for a team trying to toe the line between development and immediate contention.
Philadelphia Eagles
The Eagles really needed an infusion of talent at wideout entering this offseason and they clearly knew that, trading up in the draft to pick Heisman Trophy winner Devonta Smith. Unfortunately, Smith is already missing time due to injury, but sophomore QB Jalen Hurts will need all the help he can get even after the team's first-round pick returns to the field of play. Mims is exactly the kind of buy-low option they should be looking at, and at least physically Mims seems very similar to Alshon Jeffery. The coaching staff that loved Jeffery is gone, but the current coaches saw how valuable he was. Philly is trying to rebuild on the fly, and to do that they need to hit on relatively low-risk, high-reward plays like trading for Mims. They should consider it.
Indianapolis Colts
The Colts were always going to be hard-pressed to put together an effective passing game this year, entering training camp with T.Y. Hilton, Zach Paschal, and Michael Pittman Jr. as the top three options on the WR depth chart. That's not bad, per se, but Carson Wentz needs more talent to succeed after a down few years for the Eagles. And then Wentz got hurt, thrusting Indy's unproven backups into the spotlight. Mims is far from anything resembling a solution for that particular issue, but the more talented receivers at hand, the easier everything will be. The Colts can afford to take a shot.