Jerry Jones Once Again Stubbornly Defends Sun Blinding His Own Players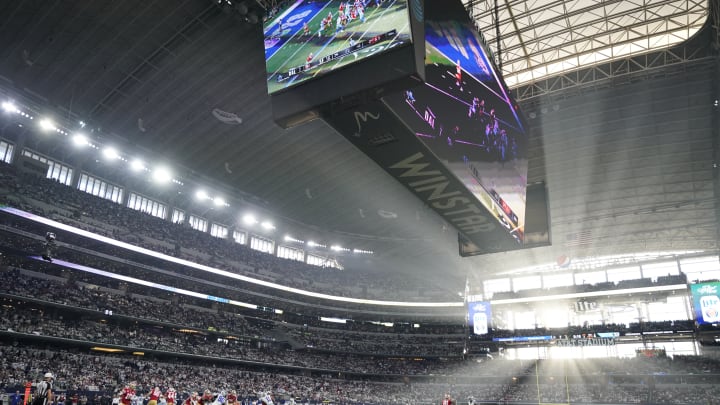 AT&T Stadium / Cooper Neill/GettyImages
The Dallas Cowboys took down the Philadelphia Eagles on Christmas Eve by the score of 40-34. It might have been a bigger deficit if the Cowboys were not forced to settle for a field goal on the goal line late in the first half. Part of the reason they kicked instead of scoring a touchdown was because Dak Prescott threw a fade on third-and-goal to Michael Gallup, who lost the ball in the sun at AT&T Stadium. This is not the first time the Cowboys have fallen victim to the design of their stadium and it certainly will not be the last, yet Jerry Jones continues to stubbornly defend it.
Jones was asked about the play during his weekly radio hit on Tuesday and basically argued that everybody has to deal with the sun so it all evens out.
This is obviously not the first time Jones' own players have been sabotaged by his palace of a stadium. Back in January Jones said something very similar and went even further, equating the sun in AT&T Stadium to the sort of natural complications that other stadiums have.
"I wish to hell all I had to worry about was a ball hitting a (jumbotron) or a little sun getting in there," Jones said. "Conditions and elements have been a part of football since it was spelled the first time. No, I'm not. That's about 10,000 on my list of things to worry about. And, no, we're not going to do anything with it. It goes both ways. Both teams had a chance to get in the sun, both teams had a chance to get out of the sun. Relative to the elements I see other people play in, it's nothing."
The difference, obviously, is that the other "elements" Jones is referencing cannot be prevented. Wind and snow at Lambeau Field will come no matter what. But he is entirely capable of just putting up some blinds in the stadium and completely eliminating it as a problem! Yet he continues to stubbornly defend his decision to shoehorn the difficulties of nature into a domed stadium, which are usually made specifically to avoid the elements.
It is just absurd. And it feels like the Cowboys have been hurt more often than the other team has over the years. But Jones will continue to stand his ground on this until the sun costs his team a playoff win or something, I guess.