Spanish RSFF President Luis Rubiales Kissed Jenni Hermoso on the Lips After World Cup Victory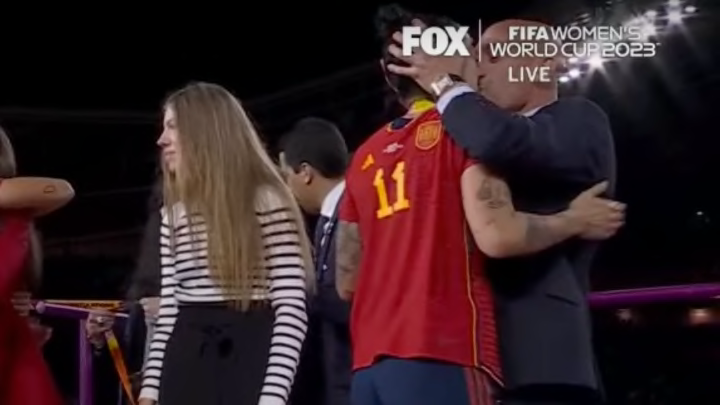 Spain won the 2023 Women's World Cup on Sunday, beating England, 1-0, thanks to a first half goal from Olga Carmona. During the medal ceremony following the victory, Royal Spanish Football Federation president Luis Rubailes embraced all of the players on stage. Some were lifted off the ground. Most got a kiss on the cheek. Star Jenni Hermoso was given a kiss on the lips.
In a comment posted on Instagram, Hermoso said she didn't enjoy it, but what could she do? Per The Mirror:
Hermoso, who starred for an impressive and convincing Spanish team in the final, was asked about the exchange on Instagram Live which was amplified by Spain's TV news station RTVE after the match. She appeared to be embarrassed and uncomfortable with the subject, and replied: "Eh...yeah, I did not enjoy that."
Rubiales reportedly downplayed the reaction to his behavior, telling the media there were idiots everywhere.
Via Google Translate: "The kiss with Jenni? Idiots are everywhere. When two people have an unimportant show of affection, we can't pay attention to idiotic things."
To make things even less professional, Rubailes reportedly announced the federation would be paying for a celebratory trip to Ibiza. During the celebration of that announcement he then apparently joked, "En Ibiza celebramos la boda de Jenni y Luis Rubiales," or, "In Ibiza we celebrate the wedding of Jenni and Luis Rubiales."
You can watch the entire handshake below if you want to see just how excited he was to see each player and then the coach.