The Jeff Darlington Guy Holding a Coffee Cup Meme Has Tremendous Potential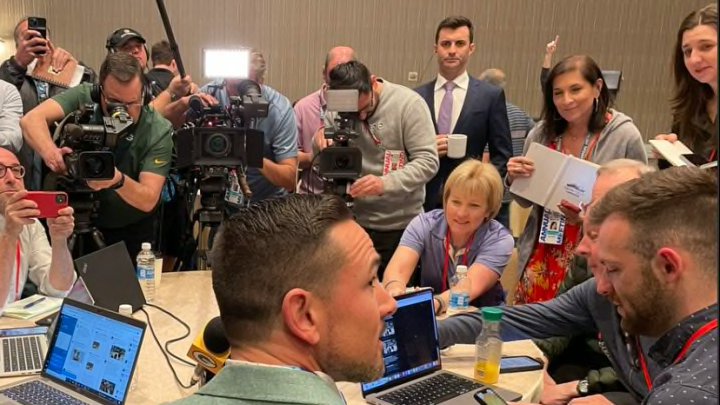 Green Bay Packers head coach Matt LaFleur offered up some highly anticipated comments about the Aaron Rodgers situation while addressing reporters at the NFL owners meetings. Though he ended up not making any big headlines while taking the high road, ESPN NFL reporter Jeff Darlington bravely and unwittingly stepped into fill the content void by looking amazing in the background.
With a nice suit adorning his body and a coffee cup in hand, Darlington channeled such strong Bill Lumbergh vibes others in the room can be forgiven for avoiding eye contact out of fear he'd ask them to come back on Saturday.
Darlington looks like the guy next to you in the conference room where you've all been assembled for a surprise 8:30 a.m. meeting who says "Mondays, am I right" while taking a giant swig from his mug with confidence because his numbers have been off the charts over the past few quarters.
His colleagues, of course, did their best to make sure he becomes a meme. Which he will if there is any justice left in this world.
Not since Michael Scott have we seen such elite staring into the camera's void. You really can't teach that.
If Darlington's bosses are reading this post they can take comfort that he wasn't simply staring into the abyss but was actually using headphones from the camera feed to hear LaFleur's responses better. In addition to just trying to enjoy his damn coffee. Multitasking, if you really think about it.
Now, to photoshop this picture of Darlington into iconic moments in history. The fall of the Berlin Wall. Out on a steel beam with those construction workers lunching over New York City. At the Battle of the Bulge. Possibilities are only constrained by the imagination.