Jay Williams: Shame on Us For Disrespecting the Miami Heat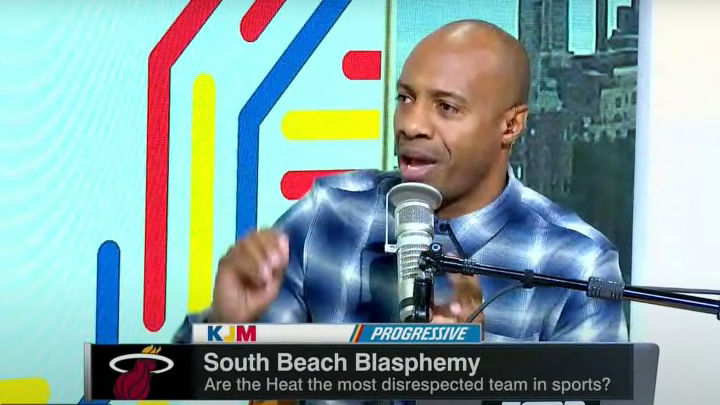 Jay Williams /
On Tuesday night, the Miami Heat will host the Boston Celtics in Game 1 of the Eastern Conference Finals. However, despite being the top seed, the Heat haven't been anywhere near the center of discussion over the course of these playoffs. A reasonable person might survey the landscape of the postseason and conclude nobody is talking about the Heat because they've been boring. They took care of the eight-seed Atlanta Hawks with the speed and efficiency expected of the No. 1 seed. Any possible intrigue was sucked out of the Philadelphia 76ers series after Joel Embiid broke his face. And this was all while the drama meter was jacked to the max around the rest of the league, i.e. the Dillon Brooks situation and Giannis running roughshod over the Celtics in a losing effort and the Suns' no-good, very bad day.
All of it combined to give the Heat a stretch of two or three weeks where they were slotted in the C block on all the sports talk shows. It is no shame to be uninteresting while advancing through the playoffs, because wins are wins. Jay Williams apparently feels differently and chided himself and sports media at large for disrespecting the Heat. This led to a chryon on Keyshawn, JWill, & Max asking if the Heat were the most disrespected franchise in sports.
It is good of Williams to recognize that Miami has been a blind spot for the show recently, but this whole segment feels a little over the top in terms of making up for it. It's been years since anybody thought Erik Spoelstra was only a good coach because he had the Big 3 for his championships. It's hard to find a basketball fan on Earth won't give credit to Pat Riley for all his success over the decades. Who is Williams talking to when he defends their honor?
It's especially ridiculous to even ask if the Heat are the most disrespected franchise in sports. They have been very good for a very long time! People are tired of the Heat Culture schtick but they still don't get anywhere near the level of hate perpetually bad NFL franchises get. Or the Cowboys. This video looks like something Riley cooked up in the lab to show to the team before the playoffs started.
The Heat are many things. Disrespected, they are not. I'll say this much-- "South Beach Blasphemy" is a tremendous turn of phrase.