NBC's Sunday Night Football 'Coming Up at Halftime' Preview is the Most Awkward Thing on Television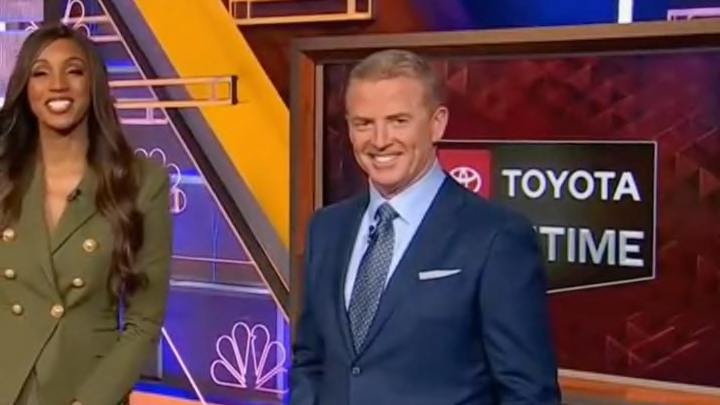 The most awkward 10-seconds on television every week during football season is NBC's brief check-in with Maria Taylor, Tony Dungy and Jason Garrett that let's America know what they're going to talk about on the SNF halftime show. Every week, when there are a few seconds remaining in the first half NBC throws it to Taylor who is flanked by the two former coaches. Everyone gets to talk for two to four seconds and then it's back to Mike and Cris to close out the half.
During Week 12's barnburner between the Green Bay Packers and Philadelphia Eagles we got our weirdest moment yet as Jason Garrett said, "The Bengals stuff King Henry" and turned to grin at the camera with a clenched jaw.
To Bill Simmons' credit, he's been talking about the unintentional comedy of these "previews" for weeks. He's probably not the only one. And after clips of Garrett grinning like he's promoting that horror movie Smile go viral this week, this is likely to become the thing it deserves to be.
Why not make the entire halftime show out of Garrett delivering cringy lines and looks? Wait and see!