Jarred Kelenic Breaks Down in Tears Talking to Reporters About Foot Injury Suffered by Kicking Cooler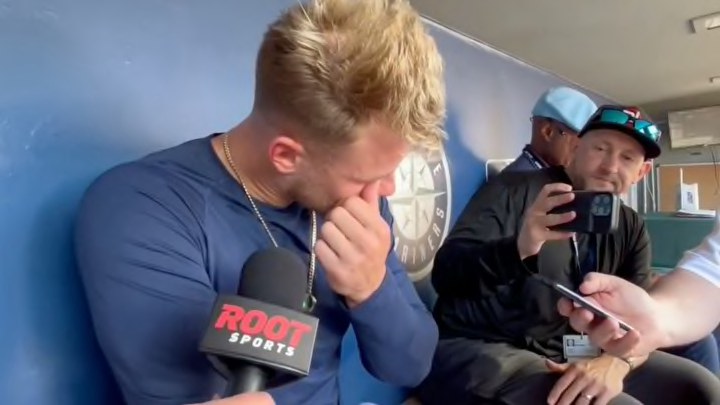 Jarred Kelenic /
The Seattle Mariners were forced to place Jarred Kelenic on the 10-day IL on Thursday with a broken foot and expect him to miss an "extended period of time." The injury was suffered in front of thousands of viewers; Kelenic kicked a cooler after striking out in the ninth inning of Wednesday's contest with the Minnesota Twins. He kicked it so hard he broke his foot and will now miss extended time as his team attempts to bridge the 5.5-game gap between them and a Wild Card berth.
That last point was hammered home during Kelenic's press availability today as he was so overcome by emotion he could not speak for a few minutes. He wiped away tears as he talked about how awful he feels for letting down his teammates and coaches.
Hard not to feel for the guy. Kelenic was finally finding his rhythm in the bigs this year after spending last year between Seattle and their Triple-A Tacoma team, battling injuries and inconsistency. This season he's been a regular in the lineup and recorded 11 home runs with 45 RBI. Now his season might be done.
Remember, kids--never kick things if you are a professional athlete. Or punch them. Use a bat if you want to take out your frustrations on inanimate objects.