Jamie Erdhal Could Not Stop Laughing at Graphic of Kyle Brandt on 'Good Morning Football'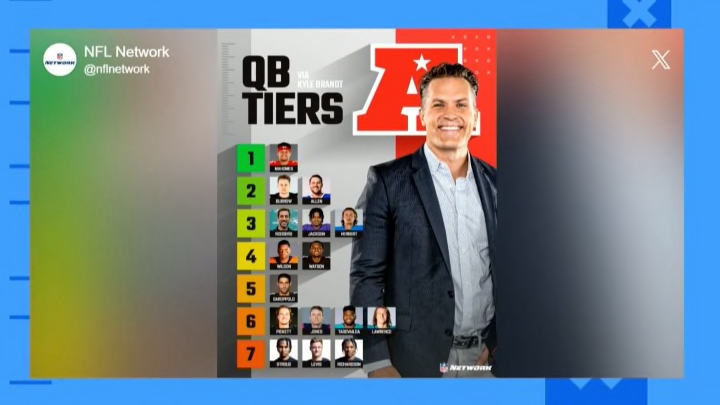 Good Morning Football /
The Good Morning Football team is ramping up to full speed as the NFL regular season rapidly approaches but things got derailed pretty hard on Tuesday morning thanks to the NFL Network graphics team. Kyle Brandt and Co. attempted to launch a QB Tiers discussion based around rankings Brandt created. The production team brought up the graphic of those rankings from the NFL Network Twitter account, which also featured a rather outsized version of Brandt next to all the quarterbacks.
The site of Brandt sent Jamie Erdhal into a fit of laughter and she could not stop for several minutes. It was apparently the way Brandt was standing that really got her.
A great GMFB Out Of Context picture here:
Great content to kick off the day, honestly. And it is hard to blame Erdhal. Brandt does indeed look a little goofy in that graphic. Clearly he made someone in the graphic department mad. No other reason to make him so large. Even brand-building 101 has its limits.
Nobody has more fun than the Good Morning Football crew. That's for sure.