Latest NBA Leads
James Worthy Not Mad, Just Disappointed in Lakers for Blowing 26-Point Lead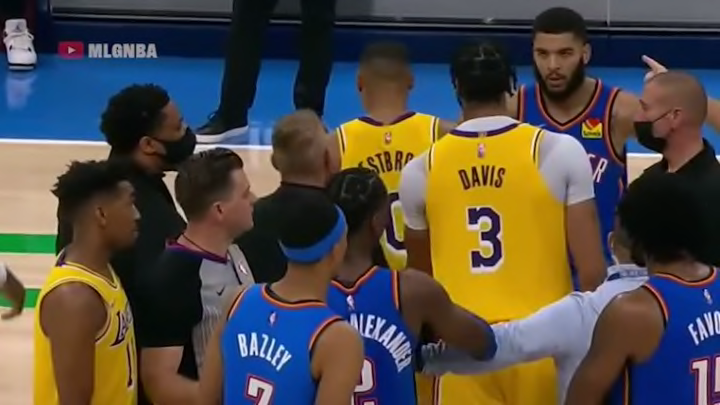 Playing without LeBron James for the second consecutive game, the Los Angeles Lakers went into Oklahoma City and built a 26-point lead over the middling Thunder. Then the defense disappeared, Russell Westbrook became a turnover machine, and the wheels fell off as the geriatric Millennials allowed 41 third-quarter points and the the home team cruised to a 123-115 victory capped by a celebratory last-second dunk by Darius Bazley that threw Westbrook into a rage.
Really lame stuff all around. The type of implosion that makes doing a local postgame show a challenge because everyone involved is going to be in a bad mood. Appearing on Access SportsNet, James Worthy was ready to help everyone sink into the stink.
"I've seen a lot of Lakers games, and I don't know, this might be the worst loss I've seen," he said.
"You have to finish the job, regardless of who you're playing," Worthy continued. "You cannot disrespect the worst team in the league. In fact, you make sure you put them away and let them know that they don't have a chance. I know it's early in the season, but this wasn't one of those games. They should have won the game, and the disrespect that they showed for Oklahoma by not being professional and finishing the job, it's not Lakers style."
While there really is no excuse for melting down against inferior talent, the calendar is still turned to the October page. The second-best basketball player of all time wasn't on the court and there are still 77 games for Frank Vogel to figure things out headed into the playoffs. At this point the NBA's regular season is just kind of there for elite teams to either participate in or halfheartedly sim (see: Nets, Brooklyn). It's probably not entirely responsible to form immovable impressions from last night's debacle, even if it was thoroughly embarrassing.
But Worthy is correct in his posture. The Lakers need to be better than this. Westbrook needs to be better than this. An embarrassing display should engender embarrassment. Worthy spoke for a lot of fans who know they should be getting a better purple-and-gold product. Hopefully this is the worst of his disappointment for the foreseeable future because it's tough to see him struggle like that.