James Harden Arriving in the Clippers Locker Room Has Incredible First Day At a New School Vibes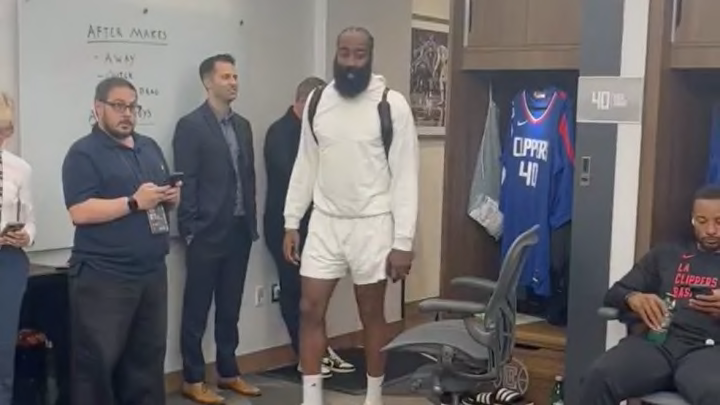 James Harden was traded from the Philadelphia 76ers to the Los Angeles Clippers early on Halloween morning. With our long national nightmare over, Harden made the trip to Los Angeles on Tuesday and joined the team in the locker room before their 118-102 win over the Orlando Magic. Luckily, Clippers beat writer Joey Linn was there to capture Harden's arrival and the kid who just transfered to a new school in the middle of the year vibes were off the charts.
The number of people staring at their phones lets you know just how electric this scene truly was as Russell Westbrook joked about Harden staying on the other side of the locker room. Without saying a word, the true star of the clip is Terance Mann. An untouchable asset when it came to the Harden trade, Mann didn't even raise his entire head to see his new teammate. Can you imagine how little Kawhi Leonard reacted to seeing Harden for the first time!?
If this is any indication of how excited the rest of the team is for Harden, then this should be a fascinating experiment. It's just a waiting game to see if his time with the Clippers ends like his time with the Sixers, Nets or Rockets. The anticipation must be killing everyone. Especially Terance Mann.