A James Harden for Ben Simmons Trade Makes a Lot of Sense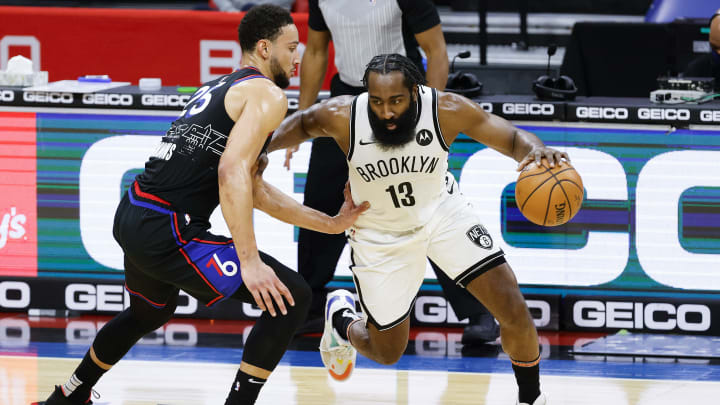 Brooklyn Nets v Philadelphia 76ers / Tim Nwachukwu/GettyImages
As the Ben Simmons saga continues to drag on for the Philadelphia 76ers with no end in sight, a rare ray of sunshine has popped up. Rumors have begun bubbling to the surface that suggest if the Brooklyn Nets don't win a championship this season, they would be willing to swap James Harden for Simmons this offseason.
Marc Stein is reporting that rival executives believe Sixers president Daryl Morey would like to keep Simmons past the trade deadline and deal him for Harden. It would be a complicated deal that would involve a sign-and-trade scenario, but in the end Simmons would wind up in Brooklyn and Harden would be in Philly.
Harden would be a much better fit on the Sixers than Simmons is. Pairing a scoring guard who can shoot with Joel Embiid is a much better match, than the shooting-averse Simmons.
The Sixers tried to land Harden last year when he was still with the Houston Rockets, and Morey was the architect of the trade that brought Harden to Houston in 2012. The two, unsuccessfully, worked to bring a title to the Rockets for years, but Harden became a perennial All-Star and the 2018 NBA MVP under Morey's watch. It makes a lot of sense for them to want to reunite. In fact, I pitched a Simmons-for-Harden swap in December of 2020.
As for the Nets, Simmons would bring incredible defensive toughness and size to the backcourt. His lack of shooting wouldn't hurt the team badly, given the shooting prowess of Kevin Durant, Kyrie Irving, Patty Mills and Joe Harris. And if the Nets are fully welcoming Irving back into the fold, he and Harden are a bit redundant when playing together. It's a bit of an odd fit.
The deal would work for both franchises. Now let's see if they could actually pull it off.