Jameis Winston, Pro Baseball Player? Why It's Less Crazy Than You Think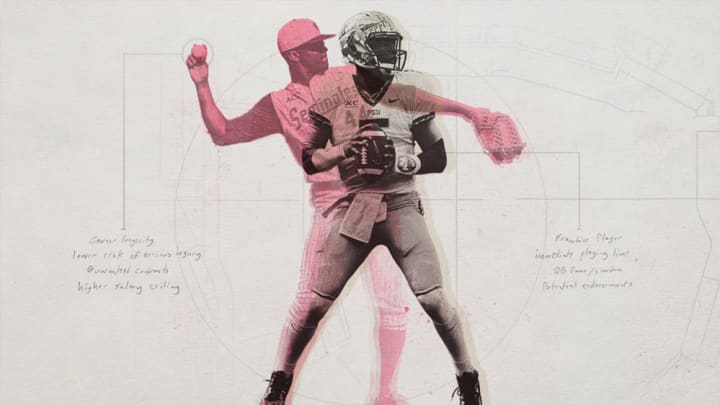 Jameis Winston is the projected No. 1 overall pick in the 2015 NFL Draft. Despite this, he has still been dabbling in baseball. Serving as Florida State's closer this season, he has allowed just one run and six hits in 13 innings. Baseball America pegged Winston, who was drafted in the fifteenth round out of high school, as a possible first-round pick as both a pitcher and an outfielder if he just concentrated on baseball. A lack of at-bats stunting his hitting development, however, may limit him to pitching.
Winston has not ruled out playing two sports professionally. But, there may be a compelling case for him to pursue one sport: baseball. Suspend your disbelief for a moment.
Winston could have substantial leverage on an initial baseball contract. MLB teams have paid a premium to keep potential football stars out of the draft. Former Michigan QB Drew Henson received a $17 million deal to join the Yankees. Former Notre Dame wide receiver Jeff Samardzija, a projected first-round pick, received $10 million over five years to sign with the Cubs.
The NFL's new CBA deflated the value of being the No. 1 overall pick dramatically. Sam Bradford received $50 million guaranteed in 2010. Both Cam Newton and Andrew Luck will receive approximately $22 million over the first four years of their careers.
That number is assuming Winston would still be the No. 1 pick in 2015. He seems unassailable now. But we have seen players tumble with a further year of scrutiny. Matt Barkley fell from fourth pick to the fourth round staying at USC for a year. Jadeveon Clowney may be picked behind Khalil Mack, who few had heard about at the end of the 2013 season.
Winston may not even enter the 2015 NFL Draft. People scoffed when he said he would stay two more years at Florida State to play baseball in 2015. But doing so would keep both professional options open for him. He would be eligible to be drafted in the 2015 MLB Draft. Young pitching is always a hot commodity. An MLB team could take an early round flier on him and make a run at signing him.
It's not clear how much guaranteed money Winston would get in baseball. But it's conceivable he could approach the same amount as his first football contract, with his MLB service time clock started. If he slides down the NFL Draft board at all, he could earn more in baseball his first five professional years. That could make the choice interesting for him, as potential earnings are far higher in baseball.
Contracts of MLB stars dwarf those earned in the NFL. Clayton Kershaw just inked a staggering seven-year $215 million extension with the Dodgers. Tigers starter Max Scherzer just turned down $144 million over six years. As comparison, Aaron Rodgers, given his age and performance, is at the maximum earning power for a quarterback right now, and just got $62.5 million guaranteed on a five-year, $110 million dollar extension.
Being even an average MLB player can be more lucrative than a good NFL career. Jeff Samardzija has blossomed into a middling starter (or "ace" if you are the Cubs) in his late 20s. He has earned $17.6 million the past seven years. He will make $5.3 million next season, have another arbitration year and reach free agency in 2016. The going rate for a middling starter now is around four-years and $40 million. A reasonable projection could see Samardzija earn more than $70 million for his career.
What would Samardzija have made in the NFL? Let's pose Dwayne Bowe, a late first-round pick for the Chiefs in 2007, as a best-case comp. Bowe has been a good, 1,000-yard receiver when healthy. He was an All-Pro in 2010. Bowe earned $9 million on his initial five-year contract. He played one season under the franchise tag for $9.15 million. His present five-year contract $56 million contract with the Chiefs came with just $26 million guaranteed. With his injury history, it's no guarantee Bowe plays out his current contract or gets another huge payout before he retires.
Samardzija likely ends up earning more money over a longer MLB career than he would have with a more successful career in the NFL, with physical consequences far less devastating.
Winston may sacrifice some endorsement revenue in baseball. Top NFL QBs – Brees, Manning, Brady and Rodgers – averaged around $9 million per year in endorsement income. Many of baseball's biggest stars not named Derek Jeter earn less than $500,000 per year in endorsements. Though that disparity may not be so extreme in Winston's case.
The sexual battery investigation and lingering cloud may hamper his potential marketability. Kobe Bryant lost contracts with McDonalds and Coca-Cola after his sexual assault trial. Ben Roethlisberger, though not charged with a crime, lost most of his comparatively minor endorsements. Winston would compete for deals with Cam Newton, Russell Wilson, Andrew Luck and Colin Kaepernick–players who don't have that baggage. He may lose some off-the-field money eschewing the NFL, but it's unlikely he would be the next Peyton Manning.
Importantly, Winston would not be closing the door on the NFL if he chose baseball and his career flamed out. Teams will always give a talented quarterback a shot. Drew Henson received a guaranteed $3.5 million deal with the Cowboys in 2004, after four years out of the game with a much less impressive college CV than Winston.
Ultimately, this comes down to personal preference. Samardzija chose baseball, at least publicly, because he preferred daily games to football practices.
""I just felt that seven days a week in baseball, I was excited to go to work," Samardzija says. "I was excited to go to the baseball field, excited to do the little things that would make me a better baseball player than a football player. It was what made me happier every day." "I'm not going to say that I'm not one much for practice, but football practice seemed a little bit of overkill at times with the meetings," Samardzija says. "I'd rather go out and compete every day, whether I'm in the game or not.""
Winston may choose football and may proceed to the NFL as many have scheduled him to do in 2015. But, thus far, Winston has been unwilling to concede his baseball option. Even as a prospective No. 1 NFL pick, the league's new CBA makes the choice far from a no-brainer. That's before getting into the long-term health issues. If Winston decides to stay at Florida State and play baseball in 2015, he may have a tough decision to make the following summer.
[feature illustration by Evan Russell/USA Today Sports]