Latest NFL Leads
Jameis Winston Injures Knee on Horsecollar Tackle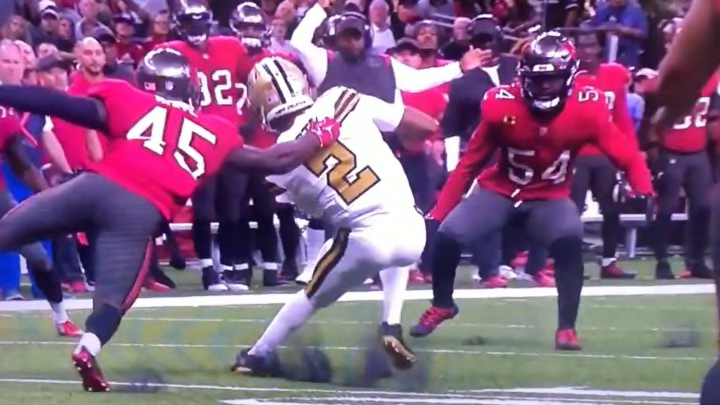 Jameis Winston /
Jameis Winston was playing his old team today, suiting up for the New Orleans Saints' divisional matchup with the Tampa Bay Buccaneers. Winston looked pretty pumped up through the first quarter, scrambling all over the place and leading the offense to one TD drive capped off by a gorgeous back corner throw to Tre'Quan Smith.
Winston was in the midst of attempting to lead another touchdown drive when he got hurt, and it was pretty nasty. Winston scrambled out of the pocket and was taken down from behind by Devin White. Winston's knee bent in a way that knees are not supposed to bend, and he tried to walk it off before going down and letting the trainers tend to it.
Here's the video. White was flagged for a horsecollar tackle on the play, although replay shows it was not quite a horsecollar tackle.
With Taysom Hill out for the day due to a concussion, Trevor Siemian came in after Winston's injury.
That did not look good. We've seen similar tackles happen this year and the player in question ends up fine, but like I said above: legs are not supposed to bend like that.
Winston went into the medical tent after the play, but was carted off shortly thereafter.
Hopefully Winston is alright. Sean Payton's grand experiment with the quarterback has only just begun. It would suck to see it cut short by a serious knee injury.