Jamaica 2, USA 1: Three Quick Thoughts After the Worst Loss in the Klinsmann Era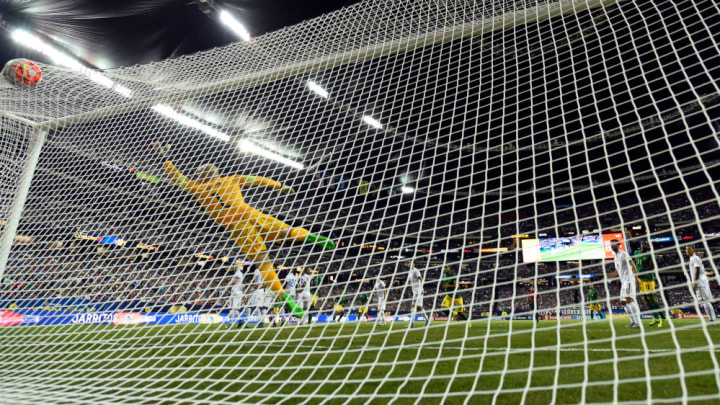 Before digging into the meat of this post following Jamaica's fully-deserved 2-1 win over the United States in the CONCACAF Gold Cup semfinals, two thoughts to bear in mind in the immediacy of the defeat if you're a U.S. supporter.
Jamaica played great and this result tonight wasn't a fluke by any means, stunning the U.S. twice on set pieces. Wes Morgan, Giles Barnes, et al and coach Winfried Schaefer took it to the U.S. and there isn't any way to sugarcoat that.
A loss like this by the United States will lead to all sorts of screaming hyperbole, so use your best judgement … myself included.
(Deep breath)
As a fan of the USMNT, especially on the Internet, we're always prone to thinking everything is the best or worst thing to every happen. How to gauge this loss? Is it as significant for Jurgen Klinsmann as losing to Belgium in the World Cup Round of 16? Probably not. That loss, if you follow soccer, made sense since Belgium's roster is significantly better than what the U.S. rolled out in Brazil.
Losing in the semifinal stage of the Gold Cup regardless of how well the opponent played, well, that's not quite as acceptable if you've played in five straight tournament finals.
True, the U.S. did enter the 2015 Gold Cup with the fall back option or with a little house money, so to speak. Since Klinsmann guided the team to victory in 2013 that no matter what happened this year, at worst the U.S. would at least have a one-game playoff to determine CONCACAF's representative in the 2017 Confederations Cup in Russia. Winning this year would have clinched it. (That game is likely to be played in October somewhere in the United States.)
So as far as surprises and upsets go, this loss tonight at the Georgia Dome is right up there not only for Klinsmann, but in USMNT history.
This much is more certain, Klinsmann's status in charge of the team will be squarely in the crosshairs if it isn't already. U.S. Soccer Federation head Sunil Gulati axed Bob Bradley after losing to Mexico in the 2011 Gold Cup final, a year into his second go-around in charge of the National Team. By that standard Klinsmann, who went as far as Bradley in the World Cup, is in jeopardy saying nothing of the undelivered, sweeping changes many expected him to bring into U.S. Soccer from the top down.
And aside from a 6-0 thrashing of out-matched Cuba in the quarterfinals, the U.S. never looked like a good soccer team during the Gold Cup despite positive results. The defense was consistently disorganized and a possession game in the midfield never developed. If not for the goal-scoring form of Clint Dempsey the results during the group stage would have looked ugly.
Even so, I tend to highly doubt Gulati is going to react to Wednesday's loss like he did with Bradley. Klinsmann is still owed a lot of money and there doesn't seem to be a ready-made candidate waiting in the wings four years later like their was when the German World Cup winner finally decided to accept the U.S. Soccer Federation's wooing (and money.) With increased interest in soccer in America, Klinsmann's status is going to be fodder for the blog/talk radio circuit on Thursday, make no doubt about that.
Suppose Michael Bradley's shot in the second half deflects off the Jamaica keeper's chest and into the goal, instead of off the post, to tie the game at 2-2? Once Bradley pulled one back early in the second half, the team did create plenty of chances to trouble Ryan Thompson. Such is the fine line in international soccer, which as a reminder once again shouldn't be treated like club soccer, even if you're a fan.
More realistically, this result sweeps away all goodwill Klinsmann established with wins in friendlies vs. the likes of Germany, Italy, the Netherlands and even Mexico. The October Confederations Cup playoff is about as pass/fail as it's going to get for Klinsmann, meaning he's got a few months to figure out a starting XI that works for a must-win game.
What we saw at the Gold Cup didn't (and the pending third-place game this weekend won't matter).
The result tonight is shocking on face value, a terrible upset and the "worst" of the Klinsmann era, but perhaps troubling is that based on the last 12 months a loss like this had been coming for the U.S.
If there's a small silver lining, thanks to Brek Shea & Co. in 2013 Klinsmann gets a rare do-over in world soccer and another shot at playing in the Confederations Cup two years from now. If he and the team mess that up, changes will probably be made out of necessity.
Three Other Quick Thoughts:
1. What defense? … Both Jamaica goals left me thinking one thing from my couch: JUMP! Credit Darren Mattocks for finding space in the box on a long throw, but Brad Evans, Ventura Alvarado and John Brooks each stood flat-footed as the ball floated in. The wall didn't jump either on Barnes sizzling free kick.
One of the pre-tournament points for the Gold Cup was finding a defense that worked. In five games Klinsmann never figured out that four-player combination, mixing and matching to no avail. Such is the risk Klinsmann ran. If the U.S. won the tournament he'd have looked smart allowing Brooks and Alvarado, both 22-year-old, to gain valuable "experience."
Klinsmann didn't second guess either player afterward, either …
What's the old line about the captain going down with the ship …?
2. Goal-keeping flux … Brad Guzan will catch a lot of deserved heat for setting up the Barnes free kick by going outside the penalty area on a throw. Maybe his positioning was off on the Mattocks goal, too. Consider it poor timing since Tim Howard, 36, says he's ready to return to the team after his self-imposed sabbatical. Either way for the first time in two-plus decades the U.S. situation in goal is highly questionable and should be an open competition.
3. Where from here? … Dempsey, now 32, was the team's best performer in the Gold Cup. Last year at the World Cup, Howard kept them afloat with a string of saves. Younger players such as Gyasi Zardes, Aron Johannsson and DeAndre Yedlin have shown promise, while others like Mix Diskerud and Jozy Altidore saw their stock take a big hit during the Gold Cup. Often it feels like there are more questions than answers …
[Photo via USA Today Sports Images]