Jalen Ramsey Hit With Absurd Penalty in Final Seconds of Seahawks-Rams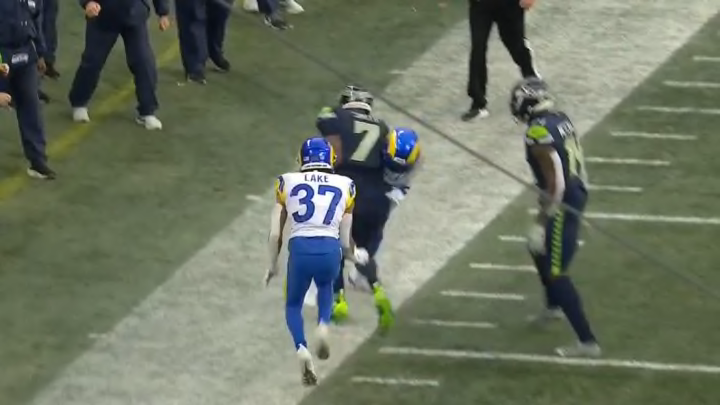 The Seattle Seahawks caught a huge break late in a must-win game Sunday evening. As they were trying to drive into field goal range in a 16-16 tie against the Los Angeles Rams, cornerback Jalen Ramsey was the recipient of a horrible penalty flag that gave the Seahawks life.
On a first and 10 from their own 30-yard line with 40 seconds remaining, Seahawks quarterback Geno Smith scrambled for 25 yards. At the end of the play, Smith ran into Ramsey, who was just standing his ground right on the sideline. He was flagged for unnecessary roughness. It was a horrible call.
Check this out:
Here's more:
That's not a penalty. And you can see Seahawks receiver DK Metcalf knocked Ramsey down after the play and should have been flagged as well. He wasn't.
The penalty put the Seahawks on LA's 30-yard line and gave them a chance at a game-winning field goal two plays later. Kicker Jason Myers hit the right upright from 46 yards out and the ball fell harmlessly, sending the game to overtime.
So, in the end, that flag didn't hurt the Rams, but it was still a terrible call.