Jalen Hurts Throws Flukey Pick-Six After Refs End Dolphins Drive By Ignoring a Facemask Penalty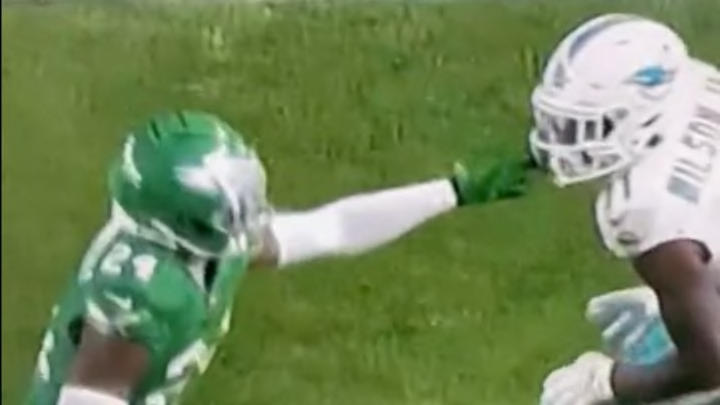 The Miami Dolphins came back from 14 points down to tie the Philadelphia Eagles in the third quarter of their Week 7 Sunday Night Football matchup. The touchdown that brought the game back to even came on a goofy pick-six thrown by Jalen Hurts that bounced off a defender's helmet. And it was all set up by a missed facemask penalty on fourth down when the Dolphins were driving moments earlier.
Tua Tagovailoa threw the ball down the sideline to Cedric Wilson Jr. The heave a bit behind Wilson and as he stopped to go back towards the ball James Bradberry reached out and briefly grabbed his facemask. It wasn't much, but it was enough to make Wilson turn his head and he wasn't able to even make an attempt on the ball. No flag. Turnover on downs. It was another massive missed call by NFL officials this week.
Jerome Baker then picked off Hurts on the next play and ran it back for 22 yards for a touchdown. Just an incredible sequence of events that only gets weirder when you throw in the Dolphins' previous play on third down. Tagovailoa hit Tyreek Hill across the middle and he dropped it, but it also kind of looked like a catch and fumble that Hill nearly recovered in the end zone.
At full speed, it's impossible to know if Hill actually caught that. If it had been called a catch it basically would have had the same result as the no-call on fourth down. So what's the real lesson here? I guess everything always works out in the end.