Jalen Carter Had a Hilarious Flop During Play With Offsetting Unnecessary Roughness Penalties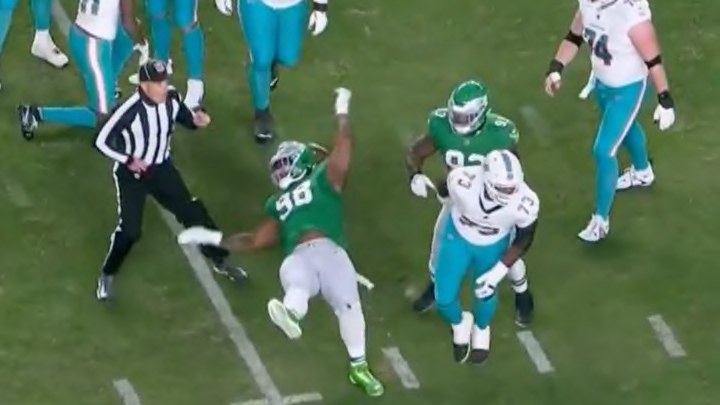 The Philadelphia Eagles and Miami Dolphins met in Week 7 on Sunday Night Football. It was a matchup of two 5-1 teams with the Eagles having the advantage in the first half. As the clock ticked towards the two-minute warning, Miami right tackle Austin Jackson and Philly defensive tackle Jalen Carter got into a physical altercation that looked like two big horn rams trying to assert dominance. If one of the rams flopped...
Just two big guys trying to destroy each other. One goes a bit over the line and the other answers with a fairly harmless cheap shot and Carter acted like he got hit by a train.
The influx of flopping in the NFL, especially amongst the biggest and strongest players, is such a hilarious development. Jalen Carter is 6-foot-3, weighs over 300 pounds and is just 22 years old. And yet he took a dive like a veteran Manu Ginobili.
The flop will get all the attention, but rolling into a soccer-style move where he pretends to writhe in pain? You can't teach that.
Carter and Jackson were given offsetting penalties on the play so there was really no harm done. The Dolphins ended up scoring their only touchdown of the first half on that drive.