Jadeveon Clowney Must Produce to Secure Big Bag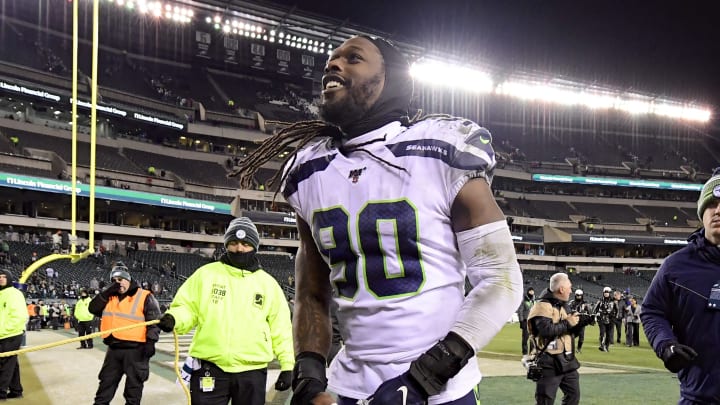 Jadeveon Clwoney. / Steven Ryan/Getty Images
Jadeveon Clowney finally secured the bag. It was much smaller than what he anticipated and there weren't as many bags either. But he found a team and got paid millions. Now the hard work begins: Rehabbing the perception of him as a player so he gets the payday he feels he deserves.
Clowney signed with the Tennessee Titans this weekend. It is a one-year deal worth $12-$15 million. That's about $8-$5 million less than the $20 million he was reportedly requesting per year when free agency began and around $110-$90 million less than the long-term contract he wanted.
The massive pay cut must have been a sobering wakeup call for Clowney. He reportedly turned down better contract offers from the Browns and Seahawks this offseason believing a bigger deal would materialize. It didn't. The reason why is three-fold.
First, while he's a recognizable player because he was the No. 1 overall pick in 2012 following a highlight-packed college career, his production has not matched his reputation in the pros. The defensive end/outside linebacker maxed out with 9.5 sacks in 2017 and backed it up with 9 in 2018. Outside of those two years, he has 13.5 sacks combined in four other seasons. Defensive end Myles Garrett, who signed a five-year, $125 million contract extension with the Browns this offseason (AKA the kind Clowney wanted), has 23.5 sacks in his last two seasons. If you want a big payday in the NFL, you need to produce and Clowney simply has not.
Second, Clowney has played one full season in six years as a pro. He underwent microfracture surgery in 2014, has had three other knee surgeries and underwent surgery this offseason for a core injury. He's also had elbow injuries and a concussion. Defensive tackle Chris Jones, who signed a four-year, $85 million deal this offseason, has missed three games in four years. Teams don't like giving oft-injured players lucrative long-term contracts and Clowney has that reputation.
Third, Clowney's timing was terrible. He's coming off arguably his worst season as a pro, accumulating just 3 sacks in 13 games. He looked slow off the ball last year and made minimal impact on the Seahawks. Throw in the injury and you have a worst-case scenario for a player trying to get a big contract.
Clowney is only 27. He still can get the contract he desires after this season. To do so, however, he needs to change the narrative currently surrounding him. That means reaching double-digit sacks, playing in 14-16 games and making a noticeable impact on a Titans defense that averaged only 2.6 sacks per game in 2019 and didn't have anyone accumulate more than 9 sacks. If Clowney can accomplish those goals, he will get paid in 2021. If not, he should be happy he got $12-$15 million in 2020 based on his name alone.